Philippine Vote Winner Keeps Changing Mind on U.S. and China
by
President-elect open to talks with China on sea dispute

Duterte stance potential risk to U.S. rebalance to Asia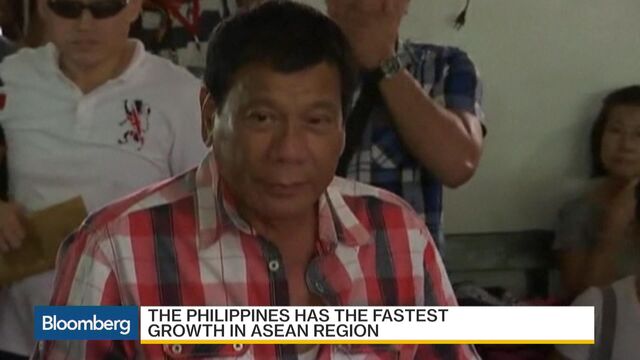 Criminals and the corrupt may know where they stand with incoming Philippine President Rodrigo Duterte. Less so the U.S. and China.
While the brash mayor has made it clear that domestic policy will center around showing no mercy to law breakers, he's offered contradictory visions for dealing with both the nation's closest ally and its biggest trading partner. In a campaign filled with off-the-cuff and off-color remarks, Duterte shifted between fanning a territorial dispute in the South China Sea and allaying concerns it will become the next global flash point.
That unpredictability was on display Monday: Speaking to reporters in Davao City, Duterte alternated between saying he was open to co-operating with China on oil and gas exploration in the disputed waters and questioning why the U.S. didn't send an aircraft carrier to challenge China to show sincerity about standing with the Philippines.
"His rhetoric has been all over the map," said Gregory Poling, a Southeast Asia specialist at the Center for Strategic and International Studies in Washington. "He seems to be deeply skeptical of the value of the U.S. alliance, largely because he doesn't believe the U.S. will really back the Philippines against China if push comes to shove. That should seriously concern leaders in Washington."
Duterte may yet temper -- or at least clarify -- his rhetoric now he's off the campaign trail. But his comments so far reflect the dilemma for the Philippines, a country dwarfed economically and militarily by both the U.S. and China and caught in the middle of the tussle between the two big powers for influence in the region.
If he does pull the Philippines away from the U.S. alliance it could undermine one of President Barack Obama's signature foreign policy initiatives: The economic and military rebalance to Asia. Any move toward China by Duterte could also bolster Beijing's efforts to enforce claims to 80 percent of a waterway that hosts $5 trillion in annual shipping.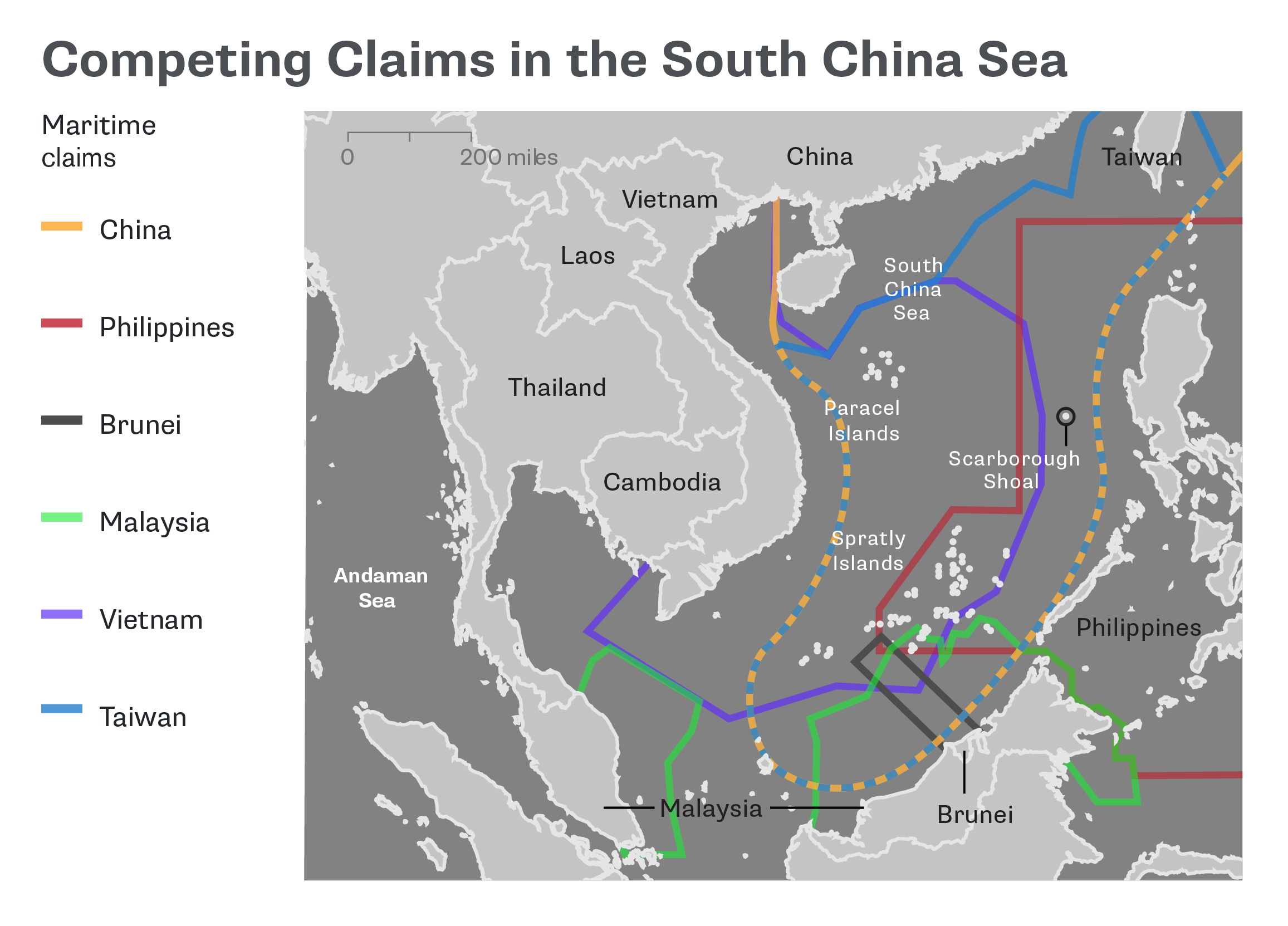 Asked if the U.S. had concerns about Duterte, State Department spokeswoman Elizabeth Trudeau told reporters in Washington on Tuesday, "We look forward to working and congratulating the winner. Washington respects the choice of the Philippine people. We gladly work with the leader they've selected."
China's Foreign Ministry Spokesman Lu Kang said on Tuesday that ties with the Philippines had "run into severe difficulty in recent years" and he hoped the new government would "push Sino-Philippine relations back to the healthy development path."
Outgoing President Benigno Aquino strengthened the Philippines' longstanding alliance with U.S. as he sought support against China's military expansion and island building in the South China Sea. China seized the Scarborough Shoal from the Philippines in 2012 and some analysts have cited concerns it could start reclaiming land there. In the Spratly island area it has created 3,000 acres of land that now feature airstrips, radars and ports.
Aquino has brought China before an international arbitration panel, a move opposed by the government in Beijing. He's also backed the defense cooperation agreement that would let the U.S. station troops and operate bases in the country for the first time in decades. The Hague-based tribunal is expected to rule on the case in the next few months.
U.S. Warship
A day after the Philippine vote the USS William P. Lawrence, a guided missile destroyer, sailed within the 12-nautical-mile territorial zone of a Chinese outpost in the Spratlys. China's defense ministry said it sent several fighter jets and three warships to warn the U.S. ship away.
Duterte said Monday that the Philippines would take a multilateral approach for now to the territorial disputes, including potentially working with the U.S., Japan and Australia. Still, earlier this month he said he'd consider direct talks with China, an approach that contrasts with Aquino's longtime stance.
At times he has indicated he'd tolerate China's presence in the area if Beijing were to build new railways in the Philippines. On other occasions he has sought to appeal to nationalist pride with threats to personally lay claims to disputed areas.
"I will take a jet ski, carrying the Philippine flag," he said during one televised debate, "and I will go to China's airport and then I will install it and say, 'This is ours and do what you want with me. It's up to you.' I would stake that claim."
Chinese Media
For all of his tough talk, Duterte appreciates that direct military confrontation would be disastrous. During a campaign stop earlier this month he said that while the Chinese have "squatted" on Philippine territory, a war would lead to a "massacre of Filipinos."
China's state media sounded a positive note about Duterte after the election, describing him as having "a China-friendly" policy. They've said his willingness to put territorial disputes on the back shelf would lead to a improvement in relations.
Duterte has already clashed with the U.S. ambassador, warning him last month to "shut his mouth" after the diplomat criticized the mayor's comment he should have been the first in line to rape an Australian missionary who was murdered in the Philippines decades ago.
Now that he has won, Duterte will likely move to clarify his South China Sea policy and take a reasonable stance, said Benito Lim, an analyst at Ateneo de Manila University.
"Although he made some comments about our relationship with China and with the United States, that doesn't mean that the offhand comment would become the basis of his policy," Lim said. "It would be better to wait and see when he comes out with a more formal declaration."
Before it's here, it's on the Bloomberg Terminal.
LEARN MORE