North Korea Holds `Mass Rally' to End Ruling Party Congress
by and
Mostly men, women and children march, waving flags, pompoms

Kim Jong Un distances himself from military-first father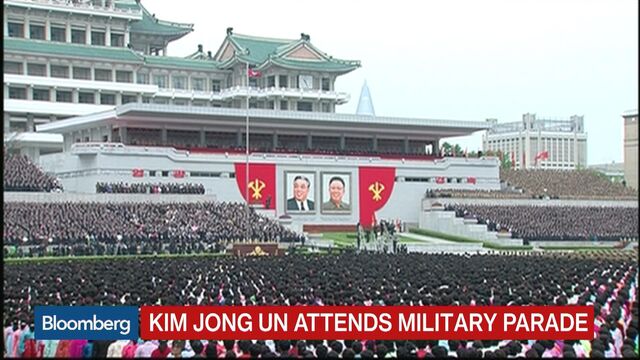 North Korea wrapped up the first meeting of the ruling party congress in 36 years with a massive parade in Pyongyang as Kim Jong Un solidified his political rule of the isolated country.
The parade was reminiscent of the October military parade to mark the party's 70th anniversary, but conspicuously missing were tanks, missiles and rifle touting soldiers. Instead, thousands of North Koreans, many dressed in traditional Korean hanbok, marched across the square waving pink and red flags and pompoms as Kim Jong Un, flanked by top military and political leaders, watched from a podium.
The official North Korean state media described the parade as a "mass rally and procession" to celebrate the "successful Seventh Congress of the Workers' Party of Korea."
Kim has been trying to distance himself from his father's military first policy and has used the congress as a way to underscore the influence of the party. The congress, which ended Monday, gave Kim the opportunity to install more loyalists in the party ranks after a number of officials linked to his father's rule were purged. Among the targets was the younger Kim's uncle and one-time deputy, Jang Song Thaek, who was executed.
Before it's here, it's on the Bloomberg Terminal.
LEARN MORE