Jefferies Said to Have Pushed LendingClub to Fix Disclosures
by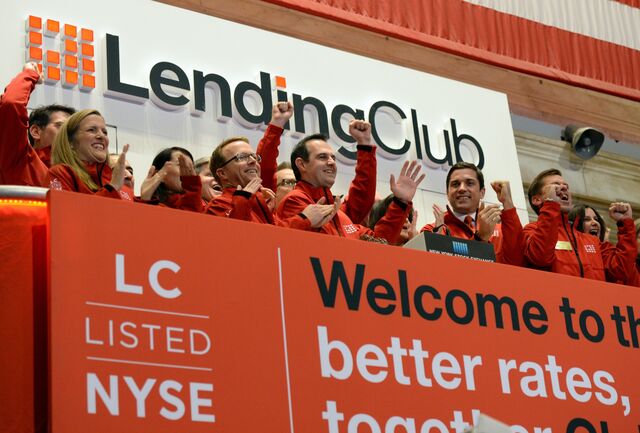 Weeks before a debacle that led to the resignation of LendingClub Corp.'s chief executive officer, investment bank Jefferies Group asked the online lender to bolster its disclosures to borrowers, people with knowledge of the matter said. 
Jefferies planned to bundle LendingClub loans into bonds. But it wanted to be sure that customers of the online finance company fully understood what rights they were signing over to the lender when they applied for credit. The bank demanded that LendingClub better disclose to borrowers that those rights, known as "power of attorney," allow the company to close loans faster, potentially by accessing information about customers' assets and income.
The bank said it would only bundle loans made with the improved disclosures into bonds, according to the people, who asked not to be named because they were not authorized to speak publicly. LendingClub believed its existing language was just as clear, but changed its notifications to meet Jefferies' request at the end of March, one of the people said.
Control Lapses
The details about the company's shifts in its disclosures give more insight into the internal-control lapses that led to the surprise departure of LendingClub Chairman and CEO Renaud Laplanche. LendingClub said on Monday that it improperly sold $22 million of loans to an investor that it was later forced to buy back. The loans were sold to Jefferies, a person with knowledge of the matter said Monday.
The bank had planned to package at least $150 million of loans into bonds and sell them to investors in May, a move designed to provide a new source of funding for LendingClub.
Jefferies is delaying those plans at least temporarily while it reassesses the situation, according to a person with knowledge of the matter. The Wall Street Journal reported earlier Tuesday that Goldman Sachs Group Inc., which had also planned to package LendingClub loans into bonds, is also pausing purchases, citing people familiar with the matter. Michael DuVally, a Goldman Sachs spokesman, declined to comment. 
Older Loans
After LendingClub changed its notifications to borrowers, it still had older loans on its books, the people said. LendingClub found its staff changed the dates on those loan applications, to make them appear to have been made after the company agreed to fix its notifications, the people said. That change would have given Jefferies the impression that the loans were made under the new terms, and were therefore eligible to be bundled into bonds.
When LendingClub said on Monday that it had bought back loans that did not meet an investor's specifications, it didn't say what was wrong with them, apart from saying they "failed to conform to the investor's express instructions as to a non-credit and non-pricing element."
The lender reviewed the situation, and also discovered a separate matter: that Laplanche had failed to tell the board that he owned a stake in a fund that the company was considering investing in. The Securities and Exchange Commission is now investigating, people familiar with the probe said.
Applicants for mortgage loans sometimes sign power-of-attorney documents to make it easier for the lender to track down information about the borrower.
Some online lenders have asked for them as well, to ease funding the loans. Companies like LendingClub originally funded their loans by allowing investors to essentially buy pieces of the credits. The power-of-attorney authorization could allow the company to sell those pieces without the borrower having to sign a document every time a transaction happens.
Consumer-protection regulators could challenge power-of-attorney provisions that are in lengthy loan contracts if the lender does not otherwise call attention to them, lawyers at Chapman and Cutler wrote in a note in April. That practice could be deemed unfair for consumers, they wrote.
Before it's here, it's on the Bloomberg Terminal.
LEARN MORE