Singapore Central Bank Must Guard Against Deflation: IMF
by
MAS should ease policy further if needed, lender says

IMF says economic growth to improve to about 2.5% in 2017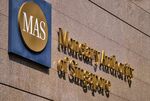 Singapore's central bank should be ready to adjust its monetary policy further if deflation takes root in the city state, the International Monetary Fund said.
The Monetary Authority of Singapore took "appropriate" action last month when it unexpectedly eased policy by announcing it won't seek currency appreciation, the Washington-based IMF said in a statement on its website.
"The MAS should remain vigilant to signs of deflation and adjust its policy settings further if needed," the lender said.
Consumer prices in Singapore have declined every month since November 2014, the longest slump on record, partly due to lower oil prices and reflecting a weakening economy. Gross domestic product growth was flat on an annualized basis in the first quarter compared with the previous three months.
The IMF is forecasting growth of 1.8 percent this year, improving to about 2.5 percent in 2017. Tighter restrictions on foreign workers and an aging workforce is a constraint to growth, it said.
The biggest external risk for the export-reliant economy is a sharper-than-expected global slowdown, according to the IMF. That can be magnified "by domestic vulnerabilities from elevated levels of leverage," it said.
Before it's here, it's on the Bloomberg Terminal.
LEARN MORE