Five Things You Need to Know to Start Your Day
Get caught up on what's moving markets.
by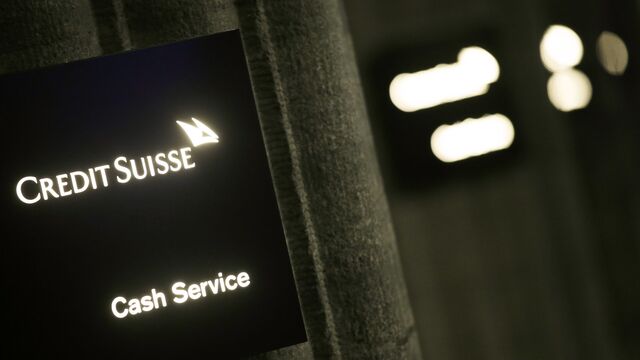 Want to receive this post in your inbox every morning? Sign up here
Credit Suisse reports another loss, Greek bonds and stocks jump, and Rousseff's impeachment is back on track. Here are some of the things people in markets are talking about today.
Credit Suisse loss
Credit Suisse Group AG reported a loss of 302 million Swiss francs ($311 million) for the first quarter, slightly better than analyst expectations. Shares in the bank are surging following the results as investors look past the loss and focus on Chief Executive Officer Tidjane Thiam's progress in overhauling the business. In the first quarter the bank reduced the inventory of  collateralized loan obligations at its securities unit by 81 percent and cut headcount by 1,000. Shares listed in Zurich were 5.7 percent higher at 5:29 a.m. ET.
Greek bonds, shares jump
Optimism has broken out among investors weighing the progress of the seemingly never-ending Greek debt talks. Yesterday euro-area finance ministers agreed to seek International Monetary Fund backing for an accord on Greek debt, with talks due to reconvene in two weeks to finalize a deal. This morning the yield on Greek 10-year bonds fell to the lowest level of the year, while the equity benchmark ASE Index jumped 3 percent. The one fly in the ointment is that the baseline scenario presented by Greece's European creditors, which includes the country running a primary surplus for decades to come, has previously been described by IMF Director Christine Lagarde as a "far-fetched fantasy."
EM politics
Keeping track of political developments in Brazil is turning into a full-time job. Yesterday, the Brazilian real plummeted the most in four years and $16.5 billion was wiped off the value of the country's benchmark stock index, before both recovered after lawmaker Waldir Maranhao, the interim head of the lower house of parliament, called for a new impeachment vote in his chamber. Maranhao released a statement late into the night reversing his decision, which will allow the Senate to vote on President Dilma Rousseff's impeachment tomorrow as previously scheduled. Meanwhile, on the other side of the globe, the Philippines peso rose the most in six weeks and the stock exchange index jumped 2.6 percent following Rodrigo Duterte's decisive victory in the country's presidential election. 
China bubble
The China commodity speculative bubble of 2016 has been one for the ages. While producing some wonderful data points (such as enough cotton being traded in one day to make a pair of jeans for everyone on earth and daily soy trading volume being enough for 56 billion servings of tofu) it has also produced a huge headache for regulators trying to manage the mania. The latest tactic from Chinese authorities has been to roll out their "authoritative person" in the ruling party's most important newspaper to warn of the "original sin" of excessive debt. The interview is seen by China-watchers as a clear warning of a shift in Chinese policy away from excess leverage. 
Markets are higher
Equity markets in Asia rose overnight, with the MSCI Asia Pacific Index climbing 0.8 percent as Japanese stocks received a lift from a weakened yen, following increasing intervention speculation. In Europe, the Stoxx 600 Index is rising for a second day, and was 1.3 percent higher at 6:07 a.m. ET as bank shares were boosted by Credit Suisse results. S&P 500 futures were 0.6 percent higher. 
What we've been reading 
This is what's caught our eye over the last 24 hours.
Before it's here, it's on the Bloomberg Terminal.
LEARN MORE