Fired Citigroup FX Trader Tells Tokyo Court He Was Scapegoat
by
Former employee is suing Citigroup in Japan over dismissal

Citigroup claims trader violated internal code of conduct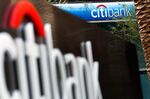 A former Citigroup Inc. trader in Japan who was fired for allegedly trying to manipulate foreign-exchange rates in violation of internal policy told a Tokyo court he was made a scapegoat and his actions were condoned by his employer, echoing claims made by several ex-Citigroup employees in courts in other parts of the world.
The former trader, who is suing the New York-based bank for wrongful dismissal, said he never received any warnings from Citigroup when he carried out transactions to defend its positions in options contracts, according to a summary of his arguments submitted to the Tokyo District Court on March 23. Bloomberg News viewed the 20-page document along with other court papers after obtaining permission from the court. The plaintiff's lawyer asked that his name not be published.
Former Citigroup traders in London and Singapore who were dismissed during the global probe into foreign-exchange manipulation have sued the bank in recent months, saying the behavior that got them fired was common at the company. Citigroup has maintained that it fired the traders for breaching its code of conduct. The Japan case comes in a country where authorities have yet to punish any bank for foreign-exchange rigging -- a practice that has saddled banks globally with about $10 billion in fines.
Electronic Chats
Citigroup fired the Tokyo-based trader in January 2015 after uncovering electronic chats from 2011 and 2013 between him and a Singapore-based colleague, the bank has said in its defense to the lawsuit, which was first filed last year and hasn't been reported before because access to the court files is limited. The former colleague, an options trader who was fired in May 2015, filed her wrongful-dismissal suit in Singapore last August arguing that the chats reflected common practice.
The communications showed "improper" intent to affect the spot foreign-exchange market by making trades before the setting of currency benchmarks that were used for options contracts, Citigroup Global Markets Japan Inc. said in a letter notifying the Japanese trader of his punitive dismissal, which was filed to the court. While the trades appeared to be too small to have directly influenced prices, the intention to do so constituted a serious breach of the company's code of conduct, according to the letter.
The trader, who filed the case in Tokyo in February 2015, claims that his actions didn't contravene the code and is demanding reinstatement. He worked for Citigroup for four years and has 15 years of experience as a foreign-exchange trader.
Common Practice
"As part of Citi's FX investigation, Citi terminated employees who Citi found to have engaged in misconduct," the U.S. bank said in an e-mailed statement. "Individual accountability continues to be important to Citi and for that reason we are defending our position. We expect our employees to adhere to the highest ethical standards."
The plaintiff's legal team declined to comment on the case.
Japan's Financial Services Agency and its watchdog arm, the Securities and Exchange Surveillance Commission, haven't disciplined any banks as part of global probes into foreign-exchange rigging. In Japan, banks fix currency rates individually and don't make submissions for benchmarks such as WM/Reuters rates.
Currency-market participants gave written statements to the Tokyo court to say that it was common for options traders to order spot traders to buy or sell currencies to move exchange rates in their favor when benchmarks are set and the options contracts are about to expire, according to court documents.
'Highly Inappropriate'
"This practice is highly inappropriate in light of the need for transparency and fairness in the market," said Takao Saga, a commissioner at the Japan Securities Research Institute and a lecturer at the graduate school of Tokyo International University. Japanese authorities "need to take control and inspect whether banks and brokerages observe guidelines and internal rules they set," he said in a March interview, speaking broadly about oversight of the foreign-exchange market in the country.
The SESC said in an e-mailed statement on March 23 that it "is monitoring the securities market closely to ensure that it is fair and investors are protected." It declined to comment on any individual case. The SESC has the authority to recommend penalties for market violations to the FSA, which carries them out.
The Tokyo Foreign Exchange Market Committee, which consists of professionals in the industry, released guidelines last year that provide specific examples of inappropriate actions in the foreign-exchange market. Under one hypothetical scenario, it says that participants shouldn't buy dollars to lift bid prices with the intention of setting the dollar-yen benchmark rate higher.
U.K. Cases
Several traders who sued banks in the U.K. after being dismissed amid the currency-rigging scandal have won their cases, though judges also criticized their conduct and declined to award substantial payouts. Former Citigroup currency trader Perry Stimpson was awarded 58,774 pounds ($85,000), less than half his annual salary, after the judge said he was guilty of "foolish and contributory conduct."
Carly McWilliams is awaiting her award after winning her case against the bank in the U.K. in April. Although the court found that Citigroup failed to follow proper procedures before she left the bank, the judge decided she had contributed to her suspension, according to a person familiar with the judgment. The finding may limit her financial award.
Before it's here, it's on the Bloomberg Terminal.
LEARN MORE