Emirates Profit Rises 50% on Fuel Windfall, Long-Haul Routes
by
Gulf No. 1 carrier expands Dubai hub with 29 A380s and 777s

Hedging policy reaps full benefit of declining oil price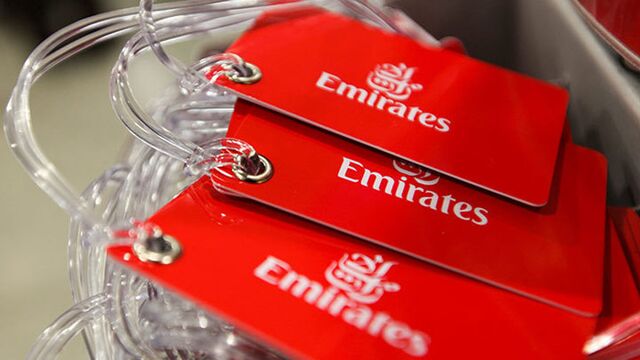 Emirates Group boosted full-year profit 50 percent as the world's biggest international airline expanded its wide-body jet fleet to siphon more long-haul travelers through Dubai and benefited from a decision not to hedge against fuel-price fluctuations.
Net income for the 12 months ended March 31 rose to 8.2 billion dirhams ($2.2 billion), Emirates said Tuesday. Revenue fell 3 percent, declining for the first time in at least 10 years. The dollar hurt revenue by 6 billion dirhams, while the company saved 9 billion dirhams as oil prices slid, Chairman and Chief Executive Officer Sheikh Ahmed bin Saeed Al Maktoum said.
"The strong dollar against major currencies will continue to be a challenge," Sheikh Ahmed said at a press conference in Dubai. "We expect low oil prices to be a double-edged sword, good for operating costs but bad for global business and consumer confidence. There's pressure on yields, so we invest profits into the business."
The airline benefited from a 28 percent oil-price drop in the fiscal year after opting not to hedge against crude. Emirates added 29 Airbus Group NV A380s and Boeing Co. 777s to what was already the largest wide-body fleet, expanding its hub and winning more long-haul transfer traffic from rivals.
Increase Orders
President Tim Clark said Emirates is ready to take more current A380s if the A380 NEO isn't produced and can increase the order to 200 planes from 140 once the carrier moves to the new airport.
Emirates Airline's profit increased 56 percent to 7.1 billion dirhams as revenue fell 4 percent. 51.9 million passengers flew with the company, an increase of 8 percent from the year earlier. The seat-load factor declined 3.1 percentage points to 76.5 percent. Dnata's profit crossed 1 billion dirhams for the first time.
Abu Dhabi-based Etihad Airways, the Gulf No. 3, posted net income of $103 million for the 2015 calendar year, up from $73 million a year earlier. Qatar Airways, the No. 2, plans to publish the numbers in June.
The International Air Transport Association estimated in December that Middle Eastern airlines would earn a collective $1.4 billion in 2015, rising to $1.7 billion this year.
(An earlier version of this story corrected the size and scope of revenue decline in second paragraph.)
Before it's here, it's on the Bloomberg Terminal.
LEARN MORE