Credit Suisse Predicts Chinese Stocks Will Survive, Not Dive, After Latest Anonymous Official Intervention
Should investors worry about an interview with an anonymous official?
by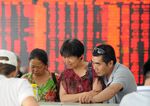 After government prognostications of an "L-shaped" growth trajectory, Credit Suisse AG is extending that prediction to the stock market.
The Shanghai Composite Index is going to remain range-bound after January's steep sell-off, even though authorities recently dropped another policy communique like those that preceded Chinese equities' last two extended runs of losses, according to the Swiss firm.
The alphabet typology referenced by the bank's Equity Strategist Li Chen first surfaced at the start of the year, when the People's Daily newspaper published an interview with an anonymous government official who predicted "a long period" with an L-shaped growth path, instead of a faster U- or V-shaped rebound. The note from Credit Suisse Group AG follows a third cryptic pronouncement on May 9 which, like the earlier two, appeared anonymously in the People's Daily.
How yesterday's 11,000 word policy piece differs from those, according to Chen, is that this one is unlikely to be followed by a sell-off. Instead, the Shanghai Composite Index will oscillate between a 2,700 to 3,000 range, not far from present levels of 2,833, as factors including cheap valuations temper an accelerating supply of equities.
Although China's local A-share market declined significantly after previous People's Daily reports, "the direct reasons widely discussed for stock market decline are not the exact policy changes mentioned in the interviews," according to Chen.
Last May's interview focused on "risk control" while the sell-off was triggered by stock market deleveraging, he said, and in January the report trailed supply-side reforms, only for yuan depreciation to send the stock market plummeting. 

If the communiques play a role, he said, it's less the detail of the statements that's spooked investors, than the fact of them. "We believe that risk-off sentiment triggered by the policy changes was also part of the reason for the previous two stock market declines," he said. 
In this report, the so-called "authoritative person" acknowledged the risks of a build-up of debt and said the nation needed to face up to its nonperforming loans, calling high leverage the "original sin." 
Before it's here, it's on the Bloomberg Terminal.
LEARN MORE