China Heads for a Showdown with Taiwan
by and
Island's incoming president refuses to toe Beijing's line

Communist Party ratchets up pressure before May 20 swearing-in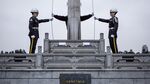 China and Taiwan are facing a confrontation not seen in years as the island's incoming president refuses to accept Beijing's bottom line for maintaining stable ties between the one-time civil war foes.
With little more than a week before her inauguration, Taiwanese President-elect Tsai Ing-wen has shown no sign she'll bow to Communist Party pressure and use the May 20 event to proclaim that both sides are part of "one China." That understanding -- known as the 1992 consensus -- underpinned eight years of improving ties across the Taiwan Strait. That is, until Tsai's pro-independence Democratic Progressive Party swept the more-Beijing-friendly Kuomintang from power in a landslide election in January.
While Tsai has pledged to keep the peace, she also must satisfy an electorate that's increasingly wary of economic dependence on their powerful neighbor and overwhelmingly opposes the one-China idea. The island's first female president has vowed to give public opinion greater sway over cross-strait policies, despite warnings from China, including the mainland's prosecution of dozens of Taiwanese telephone fraud suspects deported from Kenya last month.
"Tsai isn't likely to address the 1992 consensus explicitly in her inauguration speech. That would risk offending her supporters," said Tu Jin-lung, chairman of Taipei-based KGI Securities Investment Advisory Co. "Both sides are likely to act step-by-step to test each other's bottom line."
The dispute risks aggravating an old source of tension in Asia and straining ties between China and the U.S., which is obligated to defend Taiwan under a 1979 law. The Communist Party considers the island a province, even though it has been governed separately for more than 66 years, and reserves the right to use force to prevent it from moving toward formal independence. The DPP's charter officially supports independence, although Tsai and other leaders have sought to play down the provision.
"If a stalemate or crisis develops, the responsibility rests on the one who changes the status quo," Ma Xiaoguang, spokesman for the mainland's Taiwan Affairs Office, said Wednesday at a regular briefing in Beijing. "Our position on Taiwan won't change with any political change in Taiwan."
Economic Leverage
China has already started showing Taiwan what a less-cooperative future might look like. In March, it scrapped a diplomatic truce with Ma and established relations with the tiny West African nation of Gambia, one of a handful of states that still recognized Taiwan. Chinese authorities' decision last month to prosecute the Taiwanese fraud suspects from Kenya contrasted with a similar case in 2011, when China sent suspects back to Taiwan under a deal signed by Ma.
China could also use its leverage to squeeze Taiwan's struggling economy. During Ma's tenure, China became the world's second-largest economy and now buys 40 percent of Taiwan's exports.
"Chinese authorities have many cards to play," said Zhang Wensheng, a professor at Xiamen University's Taiwan Research Institute and a researcher with the state-backed Cross-Strait Relations Studies Center. "They won't show all the good cards at the same time, but that also depends on whether Taiwan has seriously antagonized them."

On Sunday, the incoming DPP government accused Beijing of "political interference" in Taiwan's participation in the World Health Organization after the mainland's Taiwan Affairs Office said the island's membership in the group's World Health Assembly was based on the one-China principle and could cease.
China's push for Tsai to sign onto the "1992 consensus" is complicated by the fact that more than 76 percent of Taiwanese aren't sure what it means, according to a survey last month by the DPP-leaning Taiwan Brain Trust. A March poll by the Taiwan government's Mainland Affairs Council found that 73 percent objected to the idea that both sides belong to one China, with "respective interpretations." At the same time, 87 percent support keeping ties with Beijing unchanged.
'Status Quo'
Tsai has thus pledged to uphold the "status quo" without endorsing either the 1992 consensus or its one-China principle. The closest she's come has been to say she respects that China and Taiwan reached a mutual understanding in 1992 and that it represents one option for maintaining ties.
China has begun to lose patience as the inauguration approaches, with the Communist Party's top newspaper, the People's Daily, dismissing Tsai's status quo as nothing more than "empty talk" in a commentary published last Wednesday. In March, Chinese President Xi Jinping vowed to "resolutely contain 'Taiwan independence' secessionist activities in any form," a stark warning to Tsai's incoming government.
Wu Ping-jui, the secretary general of the DPP's legislative caucus, described the one-China policy as an existential concern for Tsai and her party.
"There is no way for Tsai's government to accept the one-China policy," Wu said. "Tsai Ing-wen was elected as a president, rather than the chief executive of a special administration region. The DPP shall no longer be the DPP, should it concede to that."
Before it's here, it's on the Bloomberg Terminal.
LEARN MORE