Canada Stocks Jump Most Since February as Commodity Shares Rally
by
Canada oil-sands producers to resume production after wildfire

Intertape slides after South Carolina flood hits tape sales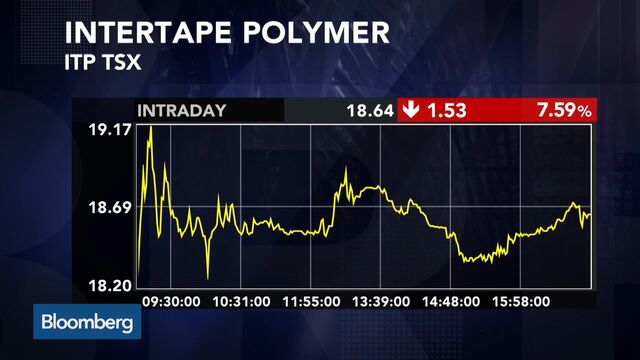 Canadian stocks climbed the most since February, rebounding from a month low, as the nation's largest lenders and natural resource producers rose following reports oil-sands producers will restart production after wildfires that engulfed northern Alberta moved away from their facilities.
The benchmark S&P/TSX Composite Index jumped 1.6 percent to 13,775.19 at 4 p.m. in Toronto, for the steepest gain in almost three months. The gauge now trades at 20.9 times earnings, about 8 percent higher than the 19.4 times valuation of the S&P 500, data compiled by Bloomberg show. Volume was in line with the 30-day average.
Energy producers climbed 2.3 percent as a group, the biggest contributor to gains in the S&P/TSX. Suncor Energy Inc. and Canadian Natural Resources Ltd. added more than 3.1 percent. Crude futures bounced back from a two-week low, trading above $44 a barrel in New York. 
Producers including Suncor, Syncrude Canada Ltd. and Royal Dutch Shell Plc took an estimated 1 million barrels a day offline over the past week due to the wildfires surrounding Fort McMurray in Alberta. The companies are now seeking to bring workers back and start up plants. Canadian officials said Monday rain and cooler temperatures were helping firefighters battle the flames, which still cover an area the size of New York City.
Canadian oil and gas companies are leading a drop in investment plans for a second year, with spending by companies and governments on non-residential construction, machinery and equipment to fall 4.4 percent in 2016, according to Statistics Canada. Capital spending in the mining, quarrying and oil and gas industry will drop 23 percent this year.
Royal Bank of Canada and Bank of Nova Scotia added at least 1 percent as financial services stocks increased as a group. Industrial shares also rallied, pacing gains with railway operators Canadian National Railway Co. and Canadian Pacific Railway Ltd. Raw-materials producers soared 3 percent as a group, as industrial metals rebounded after posting the biggest selloff in two months.
Intertape Polymer Group Inc. sank 7.6 percent, the most since August, after first-quarter revenue that trailed analysts' estimates were blamed on the South Carolina flood. The flood resulted in about $5 million worth of lost sales of masking tape and stencil products, the company said.
Badger Daylighting Ltd. ended 0.2 percent higher. Shares tumbled as much as 9.2 percent after posting first-quarter earnings that fell short of analysts' expectations. Cash flow from operations plunged 36 percent from year-ago levels amid lower revenue and gross profit. The excavating company also raised its dividend.
Before it's here, it's on the Bloomberg Terminal.
LEARN MORE