Canada's Oil-Sands Begin Restart Plans as Fire Threat Passes
By and
Shell Albian Sands up at reduced rates on improved conditions

Suncor plans to turn on units by end of week: people familiar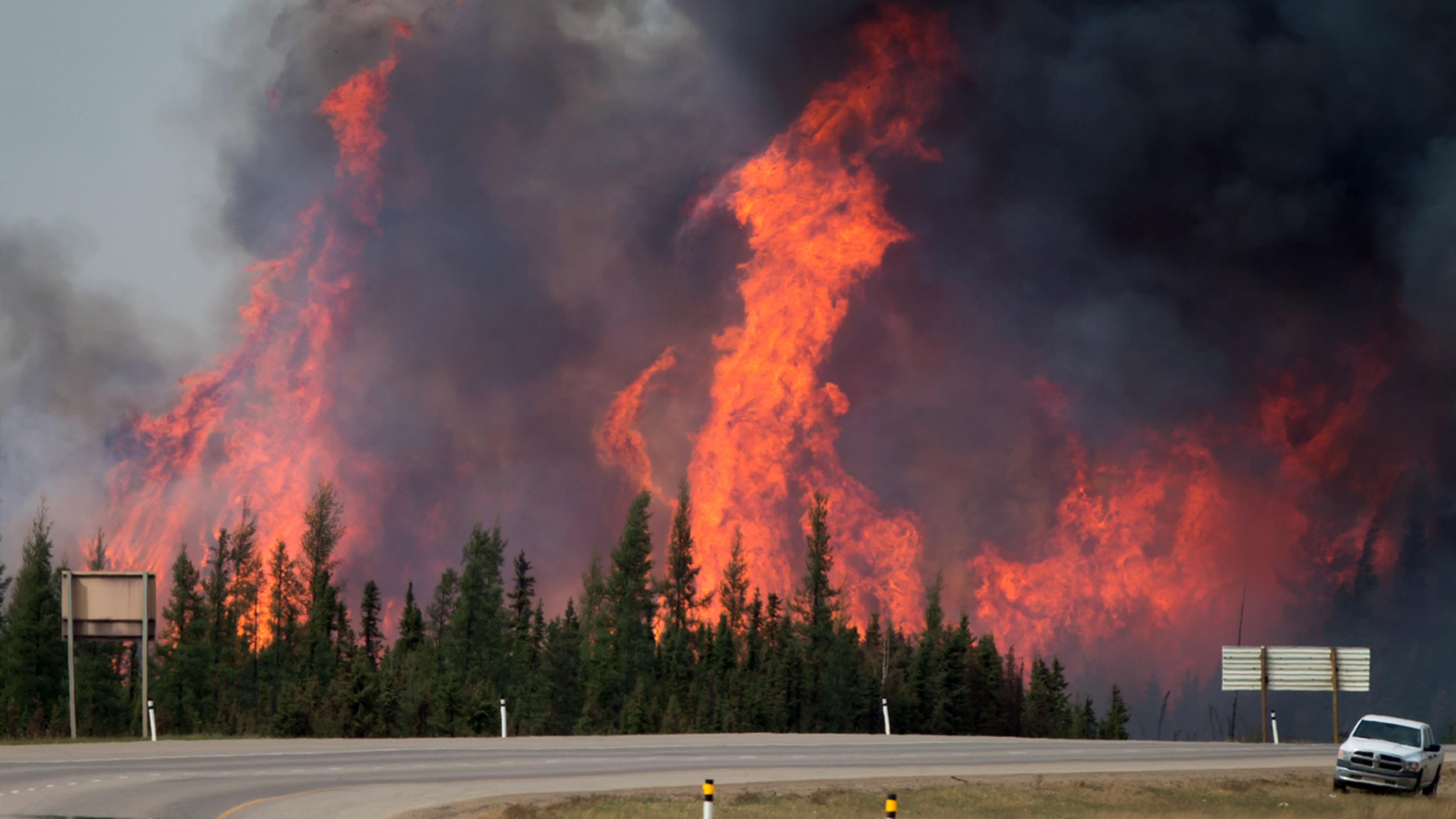 Canada's oil-sands companies that just shut production as a wildfire ripped across Northern Alberta are already planning to restart.
QuickTake Oil Sands and the Environment
Producers including Suncor Energy Inc., Royal Dutch Shell Plc, Syncrude Canada Ltd. and ConocoPhillips took an estimated 1 million barrels a day offline over the past week. Now they are seeking to bring workers back and start up plants as the blaze moves away from their facilities. Canadian officials said Monday that rain and cooler temperatures were helping firefighters battle the inferno, though it still covered an area twice the size of New York City.
Shell has already resumed production at reduced rates from its Albian Sands project and ConocoPhillips has sought permission from Alberta to send a small team to its Surmont facility to assess the site, the companies said Monday. Suncor is looking to fly workers back to its sites in the next couple of days and may begin the restart process in as early as a week, said two people familiar with operations, declining to be identified because the information isn't public.
The mines, upgraders and drilling operations came out largely unscathed from the fires that forced the evacuation of more than 80,000 people from the energy hub of Fort McMurray since May 3. Minor damage was found at Cnooc Ltd.'s Long Lake site operated by its unit Nexen. Operators including Suncor and Syncrude said they did properly managed shutdowns that will allow them to optimally resume operations, pending the restart of pipelines and power supplies in the region.

"They're designed for big natural catastrophe survival," said Michal Moore, a professor of energy economics at the University of Calgary's School of Public Policy. He said he expects the sites to start producing oil again anywhere from three days to a week after the threat of fire has been cleared. "The facilities and the wells and everything else are in a position where they can be restarted pretty easily."
IHS Energy's estimate of 1 million barrels of daily production offline amounts to about 40 percent of the oil-sands region's output. That has pushed up Canadian crude prices. Western Canadian Select crude's discount to WTI was $11.35 a barrel on Monday, the narrowest since June, data compiled by Bloomberg show. The spread was $14.75 three weeks ago.
Winds Shift
Winds shifting the fires away from oil-sands facilities reduced concern that the production cuts would make a substantial dent in U.S. oil stockpiles, helping to reverse earlier gains for West Texas Intermediate crude. The U.S. benchmark traded at $43.31 a barrel at 8 a.m. in New York.
If companies can get access to their sites by the end of this week and ramp up production over 10 days, the shutdowns would translate into a loss of about 650,000 barrels a day during a three-week period, or 14 million barrels, Goldman Sachs Group Inc. said in a note Monday.
Even with the fire risk ending, production restarts may be slowed by ongoing outages of pipelines and power generation taken offline during the emergency. Statoil ASA said Monday that it shut its Leismer oil-sands plant south of Fort McMurray, Alberta, after deliveries of the light oil it uses to thin the bitumen, known as diluent, were cut off.
Imperial Oil Ltd. said in a statement Monday it has completed a controlled shutdown of its Kearl mine, due to "ongoing uncertainties associated with inbound and outbound logistics," in a statement. Lisa Schmidt, a spokeswoman, declined in an e-mail to comment further.
Meeting Planned
Alberta Premier Rachel Notley plans to meet with oil executives on Tuesday to discuss the impact on their industry. A longer-term challenge that may hinder companies from getting back to optimal production is finding enough staff for operations, given that some of their workers lost homes in Fort McMurray, Moore said.
"The issue will be, can you restart them and be able to run them efficiently with the kind of labor you've got access to," Moore said.
The fire left about 85 percent of the city intact, including most of downtown, though decimated some neighborhoods.