Brazil's Economic Czar Has No Time for Skeptics as Rebound Ahead
by and
Delfim Netto sees Michel Temer boosting investors' confidence

Vice president has 'clear view' on how to fix economy, he says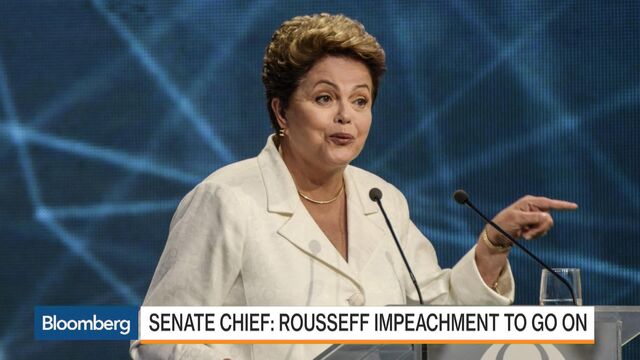 Antonio Delfim Netto has no patience for skepticism about Brazil's future.
In his 88 years, he's witnessed -- and sometimes, been part of -- plenty of periods of instability. A military regime, multiple currency changes, a sovereign debt default, hyperinflation, Brazil's so-called economic miracle, and the deep recession that followed it. Now, when everybody else is doubtful, he's optimistic.
The former finance minister and long-time economic adviser of Brazil's top politicians is confident Vice President Michel Temer, who is expected to take over after the likely ouster of President Dilma Rousseff, will be able to restore investors' and consumers' confidence, ending the longest recession in a century. Temer, who Delfim calls an old friend and with whom he has met in recent weeks to discuss strategy, has a clear view on what is needed to fix the economy and will succeed in gathering political support to implement reforms, the economist said.
"Temer is and has always been a very efficient politician," Delfim said in an interview in his office in Sao Paulo. "Now, he has been given the chance of being a statesman, and I think he won't waste it."
'Only One'
To him, the lack of political power to implement measures was what caused Nelson Barbosa and Joaquim Levy -- both "competent" and with good plans -- to fail as finance ministers. Henrique Meirelles, the former central bank president and likely finance minister in a Temer administration, is described by Delfim as determined and focused. But the key for the turnaround investors are hoping for lies with Temer's political savvy.
"Temer is the only one who can save the economists," Delfim said. "There's no major divergence among economists on what needs to be done."
Those measures, aimed at cutting a near-record budget deficit and unlocking investments, should include reforms in the pension system and labor law as well as making the country's budget more flexible. Temer should also decouple pension payment adjustments from increases in the minimum wage, Delfim said.
As finance minister from 1967 to 1974, Delfim was behind what became known as Brazil's economic miracle in the early 1970s, when gross domestic product expanded at an average annual clip of 10 percent, still the fastest on record. He also acted as agriculture and planning minister in the final years of the 1964-1985 military dictatorship, helping negotiate the nation's foreign debt restructuring.
Delfim was seen as the most powerful civilian in the military regime, a so-called super minister. His policies included championing of big-ticket infrastructure projects, the promotion of labor-intensive manufacturing over finance as well as freezing workers' salaries. He acted as a lawmaker for the next two decades, and was an adviser to President Luiz Inacio Lula da Silva during his eight years in office. Delfim publicly supported Rousseff's policies until late 2012, when he criticized her for the accounting maneuvers that are now under scrutiny in the impeachment process.
'Several Challenges'
The impeachment request, focused on fiscal maneuvers to cover a budget deficit, comes amid a political stalemate, a deepening recession and a widening corruption probe at state-run oil company Petrobras, all of which brought her popularity to record lows. Rousseff has accused Temer of leading a coup to remove her from office, and has also said in recent speeches he will cut social spending, which he has denied he'll do.
While the market has already reacted positively to a possible regime change, Temer is likely to face several challenges. A Datafolha poll last month showed only 2 percent of Brazilians would vote for him in a presidential election and 58 percent believe he should be impeached as well. For Delfim, that should be a blessing more than a curse as popular support won't cloud his decisions.
"Dilma's popularity peaked at the height of her mistakes," Delfim said, citing the president's rising approval rates in 2012, after she cut energy prices by half.
The risk of a more complicated transition was clear on Monday, as the interim head of the lower house called for a new vote on Rousseff's impeachment, a surprise move that prompted a selloff across local markets.
In 1992, after President Fernando Collor de Mello resigned amid his impeachment trial, the economy rebounded quickly, growing an average 5.4 percent the following two years -- even with hyperinflation, which peaked in 1993 at a whooping 2,477 percent a year. Now, Delfim says Brazil will likely start recovering as soon as the new government succeeds in reversing the confidence slump. He estimates the economy could expand 3 percent a year, mostly in line with the global growth rate.
The real rose 0.8 percent to 3.4871 per U.S. dollar as of 9:24 a.m. in New York on Tuesday, the most among major currencies, extending its gain in the year to 14 percent.
"The economy is all about expectations," Delfim said. "Skepticism has taken a hold of society. But I'm 88 years old. I don't have time to be skeptic."
Before it's here, it's on the Bloomberg Terminal.
LEARN MORE