An Analyst Has Put a $1,000 Price Target on Amazon Shares
Maybe you need to pay attention to only one of the FANG stocks.
by and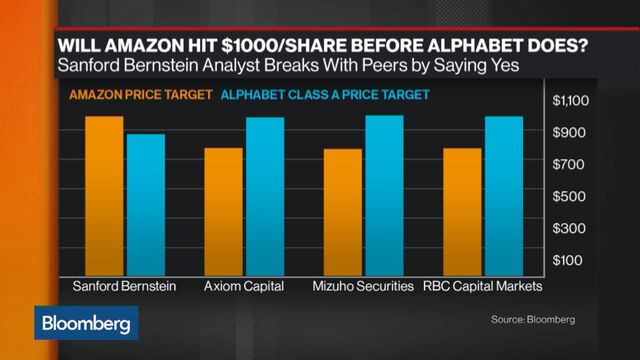 Forget 10 percent, 20 percent, or even 30 percent returns. One analyst just raised his Amazon.com Inc. price target to $1,000, a 47 percent climb from the $679 it closed at on Monday. 
Carlos Kirjner of Sanford Bernstein Co. sees few obstacles in the company's way, although there might be an unusual one: having too much money. "We think Amazon's businesses are now so large, fast-growing, and profitable that it is harder and harder for the company to find new areas of investment to keep up with the growth in gross profits," he wrote. "[T]ime is on the side of margin expansion."

The consensus price target on Wall Street is $809, and Kirjner recognizes that he is far ahead of the average bet. "[W]e are bullish in the short, medium, and long term and think we may see margins expand much faster than they have in the next two years than they have in the last two. ... We think consensus estimates are shockingly low in the next 2-3 quarters and even lower 4-6 quarters out."
Kirjner's price target is now the highest on the street. JPMorgan Chase and Co.'s Douglas Anmuth has the next highest target, at $915.
He isn't the only one that is massively bullish on the Web giant. Venture capitalist Chamath Palihapitiya of Social Capital told those attending the Sohn Investment Conference last week that Amazon will be a $3 trillion dollar company within 10 years, blowing past its current $318 billion market cap. 
"This is a story that's just beginning," said Palihapitiya. Seems Kirjner feels the same way.
Before it's here, it's on the Bloomberg Terminal.
LEARN MORE