Allergan to Buy Back Up to $10 Billion in Shares
Kristen Hallam and Cynthia Koons
Drugmaker will repurchase as much as $10 billion in stock

CEO Saunders says he's focused on `tuck-in' deals for now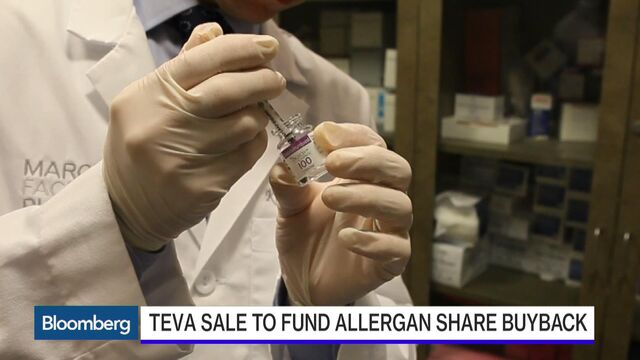 Allergan Plc, the maker of the anti-wrinkle injection Botox, said it plans to buy back as much as $10 billion in stock after completing the $40 billion sale of its generics business to Teva Pharmaceutical Industries Ltd.
Allergan will purchase $4 billion to $5 billion in stock over four to six months, depending on market conditions, the company said Tuesday in a statement. The company also reported first-quarter adjusted earnings that beat analysts' projections.
Allergan has made a name for itself by doing deal after deal to grow into a pharmaceutical giant. For now, Chief Executive Officer Brent Saunders said he's focused on so-called tuck-in deals of up to a few billion dollars in size that fit within the company's existing lines of business. Yet he didn't rule out a large-scale transformational deal like the one he did as CEO of Actavis Plc to acquire Allergan last year.
"Certainly we're going to stay open-minded to" what he called any "once-in-a-lifetime" opportunities, Saunders said on a call with analysts Tuesday. "But our core focus is on running the best pharmaceutical company in the world and supporting that growth through" share repurchases, paying down debt and maintaining the company's investment-grade rating.

Allergan's stock has dropped 10 percent since Pfizer Inc. walked away from its $160 billion proposed takeover, as of Monday's close. The drugmakers went their separate ways after the U.S. government proposed regulations to crack down on mergers that enable American companies to move their headquarters overseas in search of lower tax rates. Allergan is now focused on completing the sale of its generics business to Teva, which both companies expect to close by the end of next month.
Allergan's share repurchasing program is pending the completion of the sale to Teva. If favorable market conditions persist, the company will consider extending the program, according to the statement.
Buyback Plan
"As we considered our options for deploying cash following Teva's planned $40.5 billion acquisition of our global generics business in the second quarter, we realized there was no better investment than our fast growing company," Saunders said on Tuesday's call.
The company's shares rose 3.6 percent to $221.41 at 12:58 p.m. in New York.
In a separate statement, Allergan posted first-quarter earnings that beat analysts' estimates in the first financial report since its deal with Pfizer collapsed:
Earnings were $3.04 a share, excluding some items; analysts had projected $3 
Sales grew 48 percent to $3.80 billion; analysts had estimated $3.95 billion
Full-year revenue will be about $17 billion.