Adecco CEO Says U.K. Finance Hiring Sputters on Brexit Vote
by
Adecco reports quarterly sales in line with estimates

CEO Dehaze tells Bloomberg TV France is slowly recovering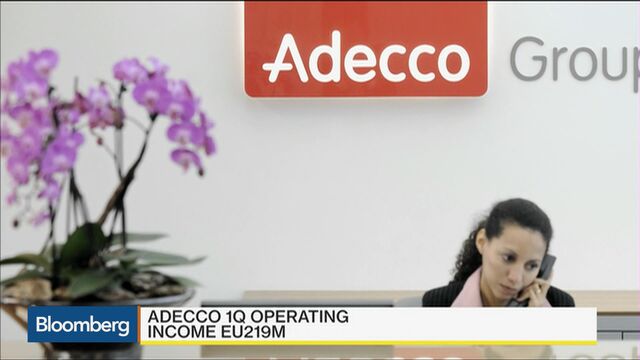 Adecco SA Chief Executive Officer Alain Dehaze said companies in the U.K. are increasingly hesitant about hiring highly-skilled workers mainly in the finance industry in the lead up to next month's referendum on European Union membership.
"Some customers are more uncertain regarding hiring of highly-skilled people," Dehaze, who heads the world's largest staffing company, said in an interview Tuesday on Bloomberg TV. "This uncertainty is growing and will continue to grow" ahead of the June 23 poll.
Adecco hasn't experienced a "material impact" from the vote, he said. The Swiss employer reported first-quarter revenue in line with analyst estimates as accelerating European economic growth and a slow recovery in France, its biggest market, prompted companies to hire.
Shares fell 2 percent to 60.60 Swiss francs at 9:20 a.m. in Zurich.
Adecco is a bellwether for the global economy as companies use recruitment services to bring in temporary staff when business prospects are rising. In the U.K., Chancellor of the Exchequer George Osborne acknowledged Monday that next month's vote had caused businesses to delay investment in the country. For its part, Adecco completed the acquisition of Penna Consulting Plc, announced in March, to expand in the market.
Sales rose 5 percent to 5.3 billion euros ($6.06 billion) from 5.1 billion euros a year earlier, Glattbrugg, Switzerland-based Adecco said in a statement. That was in line with the 5.3 billion-euro average of six analyst estimates compiled by Bloomberg. Revenue from U.K. and Ireland, which make up Adecco's third largest market, were unchanged at 545 million euros.
Earnings before interest, taxes and amortization fell 4 percent to 228 million euros while revenue from France rose 7 percent to 1.1 billion euros.
"France is slowly recovering," Dehaze said in the interview. "It's not an explosive recovery, it's a continuous recovery."
First-quarter net income fell 10 percent, to 144 million euros. Adecco reiterated its target for Ebita margin of an average of 4.5 percent to 5 percent through 2020, after cutting it at the start of 2016. In the first three months, it narrowed to 4.3 percent of revenue from 4.6 percent.
A renewed drop in consumer prices in April overshadowed the euro area's fastest economic growth in a year and prompted warnings about its impact on wages from the European Central Bank. As unemployment declined in March to the lowest since 2011, the European Commission told the 19-nation bloc's largest economies to reduce debt and modernize labor markets.
Before it's here, it's on the Bloomberg Terminal.
LEARN MORE