Wage Anomaly in Russia Is Latest Hurdle for Monetary Easing
by
Central bank says `mixed data' in wages raises inflation risks

Surge in salaries topped inflation first time since late 2014
The Bank of Russia is puzzled.
What it knows is that "mixed data" in nominal wages was enough of a concern to rank it among the key risks for price growth after its interest-rate decision in April. What it doesn't, at least not yet, is whether it was a one-off or the latest catalyst for inflation that's paralyzed monetary policy.
The consumer hasn't been giving Governor Elvira Nabiullina too much trouble until now. Domestic demand, eviscerated by the crisis of the past two years, has largely been supportive as the central bank sought to drain the economy of price pressures. That may be about to change after annual increases in wages reached 8.7 percent in February and 9 percent March, exceeding the pace of inflation for the first time since October 2014.
"Growth in nominal salaries above 5 percent is unexpected and bad for mid-term inflation forecasts," said Oleg Kouzmin, chief economist for Russia at Renaissance Capital in Moscow. "It may require tighter monetary policy to compensate for this effect."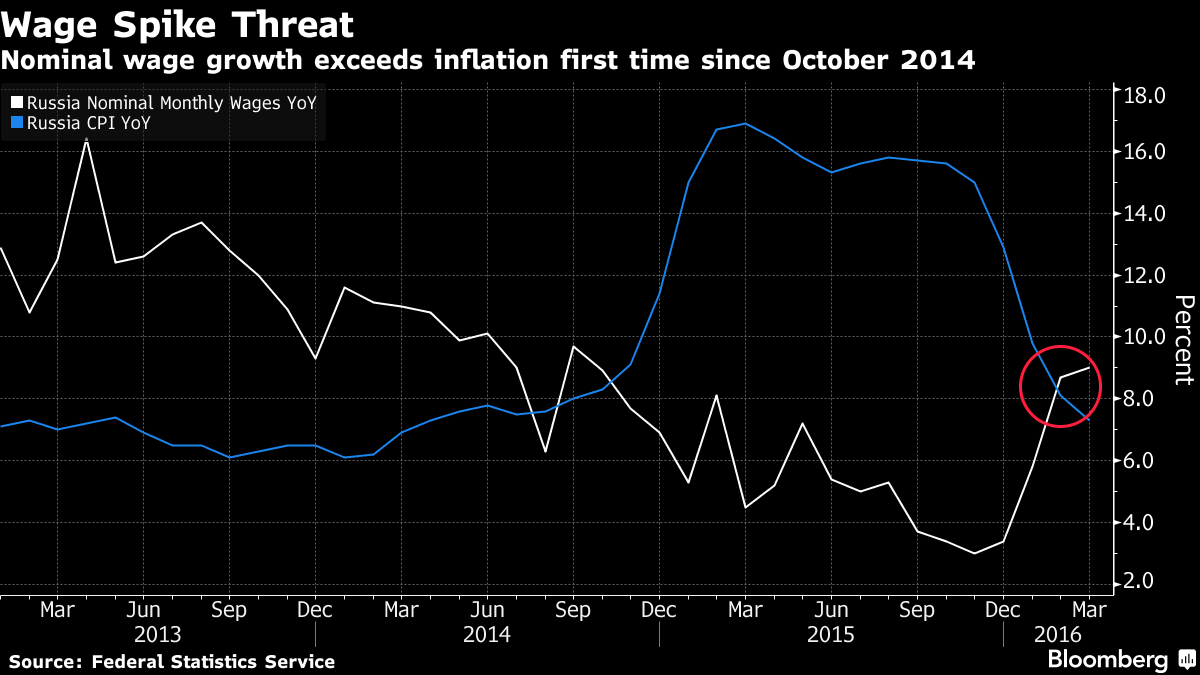 Until the recent wage data, demand-side pressures to inflation were the least of Nabiullina's worries. As the central bank zeroed in on bringing price growth to its 4 percent target next year, threats that loomed larger included budget risks and volatility in oil and the ruble. It's paused for nine months by keeping the benchmark rate at 11 percent even as a recession entered its second year.
The Russian currency has stabilized this year as crude rebounded, gaining more than 11 percent against the dollar after a 20 percent loss in 2015. Annual inflation decelerated every month since September before stalling at 7.3 percent in April, near a level Nabiullina has called "unacceptable" for reviving the economy and investment.
While policy makers last month held out the prospect of a rate cut at one of their next three meetings, the central bank's statement for the first time contained a mention of salary increases, pointing to the "ambiguity of the observed movements in nominal wages" as one reason "inflation risks remain elevated."
The extent to which changes in household finances inform monetary policy will depend on how they translate into consumer behavior. For now, the central bank is waiting for clarity when the Federal Statistics Services releases figures for April on May 23.
Data Riddle
If higher wages resulted from one-time payouts, the likelihood of improvements in consumer spending "isn't high," the central bank said in an e-mailed reply to questions. Should they reflect broader adjustments in wages by private businesses, they can have a "substantial effect on consumer demand and, consequently, increase inflation risks," it said.
Data for March can be revised in either direction, the Economy Ministry said in response for comment. It projects that last quarter's 6.1 percent growth in nominal wages will be sustained until the end of the year. When adjusted for inflation, salaries will decline about 1.5 percent in 2016, according to the ministry.
The boon in wages is so far little in evidence when it comes to consumer spending. It's shown no sign of picking up in March as unemployment jumped to the highest in more than three years, with retail sales plunging an annual 5.8 percent.
Flush with profits that grew by more than 51 percent last year, companies may be raising salaries to compete for labor as the Russian workforce ages and shrinks. The working-age population will continue to contract after declining by 5 million since its peak in 2006, cutting Russia's potential economic growth near zero in 2016-2017, according to Bank of America Corp.
'Possible Tensions'
"Companies received profits and don't expect the economic situation to worsen," said Vladimir Salnikov, deputy director of the Center for Macroeconomic Analysis and Short-term Forecasting in Moscow. Given "possible tensions on the skilled-labor market, they began to adjust salaries for specialists."
While real wages are forecast to resume growth in 2017 after a plunge of more than 9 percent in 2015, they won't reach last year's level until 2018 under the Economy Ministry's baseline projection. Salaries will amount to 47.2 percent of gross domestic product in 2016 and 47.3 percent the following year, compared with 46.8 percent in 2015, as growth in wages outpaces economic gains in the private sector, according to the ministry's updated forecasts.
Should the spike in wages reflect a shortage of workers, it would present challenges for Russia that lie far beyond monetary policy.
'Personnel Deficit'
The statistics, if upheld, will signal a "personnel deficit" that will be a drag on economic growth, according to Deputy Finance Minister Maxim Oreshkin. Authorities will need to respond with measures to reduce employment by state companies, lengthen people's working life and increase labor mobility, he said by phone.
The fiscal implications of population aging are dire in Russia, S&P Global Ratings said in a report released last month. Under its hypothetical "no-policy-change" scenario, it predicts the country will be one of six sovereigns with net debt levels above 250 percent of economic output in 2050. Russian population is forecast to shrink from 143.5 million in 2015 to 128.6 million 35 years later, with age-related spending reaching 19.1 percent of GDP, according to S&P. That compares with 13.1 percent presently for Russia and the current median of 7.8 percent in emerging economies.
"If the acceleration of wage increases is confirmed, it will mean that more active reforms of the labor market are needed to reach significant rates of potential growth for the economy," Oreshkin said.
Before it's here, it's on the Bloomberg Terminal.
LEARN MORE