SoftBank's Son May Use Listing to Fix $22 Billion Value Gap
by and
The company is worth less than the value of its shareholdings

Listing domestic communications business could unlock value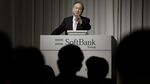 Masayoshi Son's promises of a turnaround for his U.S. operations and a record share buyback haven't been enough to erase SoftBank Group Corp.'s $22 billion valuation gap. The billionaire founder has at least one more card to play -- listing the company's domestic telecommunications business.
SoftBank has a market value of about $65 billion through Monday, while its public shareholdings were worth 9.5 trillion yen ($87 billion), according to data compiled by Bloomberg. The stake in Alibaba Group Holding Ltd. alone is almost equal to the entire equity of the Japanese company whose portfolio also includes the country's third-largest wireless service.
Son transformed SoftBank from a distributor of computer software into a technology giant through acquisitions of telecom assets and early investments in startups like Alibaba. But he stumbled with more recent moves, including the purchase of money-losing Sprint Corp., spooking investors who have discounted the value of his shares. In addition to stakes in Alibaba, Sprint and Yahoo Japan Corp., SoftBank owns a Japanese phone business that could be worth $24 billion, based on the value of rival KDDI Corp.
"With all this discussion of Sprint and Alibaba, what's being lost is the large amount of cash generated by SoftBank's domestic telecom operations" said Atul Goyal, an analyst at Jefferies Group. "One of the options is to list the telecom business, that way group value gets unlocked."
Son already took the first step toward separating the stable Japanese businesses from the riskier Internet investments by splitting the company into domestic and overseas units. He entrusted group President Nikesh Arora with operations abroad and a plan to invest about $3 billion each year as SoftBank backs startups that can become the next Alibaba. Ken Miyauchi runs the domestic business.
When the company reported full-year earnings in Tokyo Tuesday, the positive results at its Japan operations were overshadowed by the continuing struggles at Sprint. SoftBank's stock closed 3.4 percent higher at 5,992 yen.
"SoftBank's aggressive bets on Internet businesses have troubled shareholders looking for a more conservative, utility-like investment," said Michelle Ma, an analyst at Bloomberg Intelligence. "Listing the domestic operations is a conceivable solution. It would allow shareholders with different risk appetites to invest accordingly."

SoftBank's shares tumbled to a three-year low in February amid mounting pessimism about its efforts to revive Sprint. Son has said it may take two years to stem a customer exodus and turn around the fourth-largest U.S. wireless carrier, which has booked more than seven years of losses.
In 2013, SoftBank paid $22 billion for a controlling stake in Sprint before later acquiring more stock. Its investment in the Overland Park, Kansas-based carrier is now worth half that based on Friday's prices, according to its website.
SoftBank responded to the stock swoon by announcing plans to spend as much as 500 billion yen to buy back 14.2 percent of its shares. The company said Tuesday it acquired 25 percent of the target number of shares, paying about 230 billion yen.
While the resulting rally from the buyback announcement added nearly 2 trillion yen in market capitalization, the company is still valued at less than the public shares it owns, meaning investors deem its operating businesses practically worthless.
But the Japan telecom operations are highly profitable. If SoftBank's Japan unit was valued at the same earnings multiple as KDDI, it would have an enterprise value of about 8 trillion. Even subtracting all the parent company's yen-denominated debt, that would leave equity worth 2.6 trillion yen or about $24 billion.
SoftBank's mobile and broadband businesses generated more than 688 billion yen in profit in the year ended March.
"SoftBank's Japanese telco operations would trade in-line with those of its domestic rivals," Goyal said. He estimates the enterprise value of the business to be between $75 billion and $80 billion.
KDDI and NTT Docomo Inc., Japan's largest carrier, have seen their valuations climb in the past few years as price competition subsided in the maturing domestic market. The companies are now positioned to reap the benefits of earlier investments in building up data networks. KDDI is forecasting a record 820 billion yen profit in the fiscal year ended March 31.
"These are the golden years for Japanese telecoms and a really a great time for dividend-seeking investors," said Ma. "The companies are in that part of the cycle where earlier capital investments are finally beginning to pay off while competition remains quite benign."
Before it's here, it's on the Bloomberg Terminal.
LEARN MORE