Gap Plunges After Comeback Plan Fails to Revive Sales Growth
by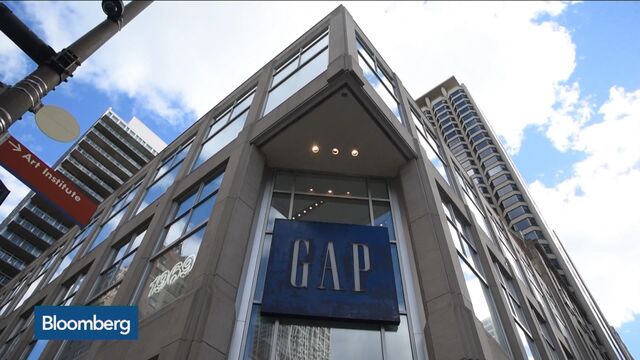 Gap Inc. shares plunged as much as 13 percent after the apparel chain posted disappointing results, a sign the company's much-vaunted springtime comeback hasn't materialized.
Same-store sales -- a key benchmark -- dropped 7 percent in April, the San Francisco-based retailer said in a statement Monday. Analysts had predicted a gain of 1.1 percent, according to Retail Metrics. Preliminary earnings ranged from 31 cents to 32 cents a share in the first quarter, well below the 44 cents estimated by analysts.
Chief Executive Officer Art Peck, who took the reins last year, had said the company would show signs of a turnaround by this season. Instead, sluggish store traffic in March continued into April. The company's budget-minded Old Navy fared especially poorly last month. Comparable sales at that chain plunged 10 percent in April, compared with the 2.6 percent increase analysts had estimated.

For a wrap-up of the analyst commentary on Gap today, click here.
"The most concerning part of this narrative might be that management was surprised by the weak sales, which suggests further transformation likely lies ahead," Simeon Siegel, an analyst at Nomura Securities, said in a note to clients. "Gap's business may simply be too large."
Shares of Gap, the biggest U.S. apparel-focused retailer, fell as low as $19.08 in New York, the biggest intraday decline in more than a month. They were already down 12 percent this year before the report.
Reviewing Stores
The company also said it's evaluating its Banana Republic and Old Navy chains to find ways to be more efficient, especially outside of North America. The company also may close more stores in North America over time, according to Siegel.
Gap will give more details when the retailer reports its final first-quarter results on May 19.
"Our industry is evolving and we must transform at a faster pace, while focusing our energy on what matters most to our customers," Peck said in the statement. "We are committed to better positioning the business to recapture market share in North America and to capitalizing on strategic international regions where there is a strong runway for growth."
Before it's here, it's on the Bloomberg Terminal.
LEARN MORE