Dubai Financial Centre's CEO Unfazed by Rise of Regional Rivals
by and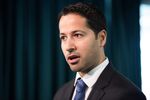 The head of Dubai's International Financial Centre said he's unfazed by the development of rival banking hubs in the Middle East, including Saudi Arabia's King Abdullah Financial District and the Abu Dhabi Global Market.
The financial industry still has opportunities to grow across the Middle East, North Africa and South Asia region, also known as MENASA, Dubai International Financial Centre CEO Arif Amiri said Monday at the City Week conference in London. The DIFC, as Dubai's banking hub is known, had a record year in 2015 even amid a drop in commodity prices and slowdown in economic growth in the region, he said.
"There's a $7.8 trillion economy within the MENASA region and I don't think there is enough representation in terms of financial centers," he said. "There's a lot of potential there for everybody to nurture and grow, it's an opportunity rather than a threat."
Saudi Arabia is restructuring its financial district to help fill the three million square meters of space currently under construction after limited demand from banks. The district will be transformed into a special economic zone with its own regulations, visa exemptions, and direct links to Riyadh airport, according to a government economic plan announced last month.
Abu Dhabi is also building out its own financial center with Aberdeen Asset Management and Macquarie Capital planning regional hubs based there, Abu Dhabi Global Market CEO Richard Teng said in March.
Before it's here, it's on the Bloomberg Terminal.
LEARN MORE