Domino Effect Seen by Half of Europeans If U.K. Exits EU
by
Ipsos Mori survey shows support for own vote in Italy, France

Only 35 percent of Britons believe U.K. will vote to leave EU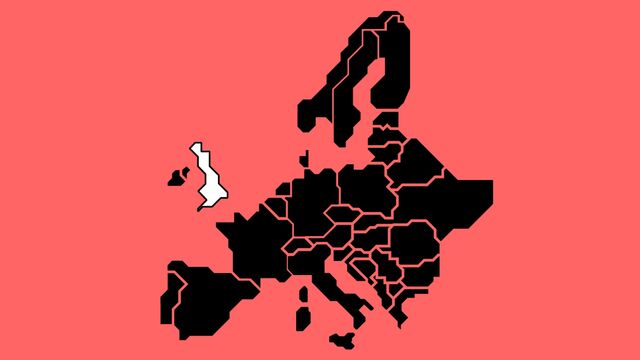 Half of Europeans believe that a vote by Britain to leave the European Union could spark a domino effect causing other countries to leave the bloc, with four in 10 foreseeing a reduced EU by the end of the decade.
QuickTake Will Britain Leave the EU?
An average of half of respondents in Belgium, France, Germany, Hungary, Italy, Poland, Spain and Sweden believe their own country should hold a referendum on staying in the EU, and an average of 49 percent think Britain will vote to leave in June's referendum, a poll by Ipsos Mori published Monday showed.
"Internationally, the more common view is that the U.K. would suffer less than the EU from the break-up," Bobby Duffy, the managing director of Ipsos Mori's Social Research Institute, said in an e-mailed statement. Europeans "feel there is likely to be a ripple effect following the U.K. vote" and this "lends a sense that even if the vote is to stick with the status quo in June, it will not be the end of the EU's challenges."
Monday's poll coincides with a warning by British Prime Minister David Cameron that Britain's membership of the EU is key to preventing future conflict in Europe. Cameron's latest appeal to Britons to vote to stay in June 23's referendum, delivered in a speech in London on Monday, came after a series of warnings by the U.K. Treasury that an exit from the bloc would hurt Britain's economy and jobs.
Business Leaders
Britons themselves were less convinced, with only 35 percent saying an exit was likely, according to Ipsos Mori. Business leaders were equally likely to back a vote to stay in, with a separate survey by the Institute of Directors showing 63 percent of its members surveyed were in favor of remaining.
Italy and France were most likely to back a referendum on membership in the Ipsos poll, with a majority of respondents backing calls for a vote. About half of respondents said a so-called Brexit would have a negative impact on the EU's economy and its influence on the world stage.
Ipsos Mori surveyed between 500 and 1,000 people under 65 in each country online between March 25 and April 8. The Institute of Directors surveyed 1,224 of its members between April 28 and April 13.
Before it's here, it's on the Bloomberg Terminal.
LEARN MORE