Tesla Battery Drive Lures China Molybdenum Into Cobalt
by
Madhavpeddi says electric cars will mean strong cobalt demand

CMOC International CEO says still room for more acquisitions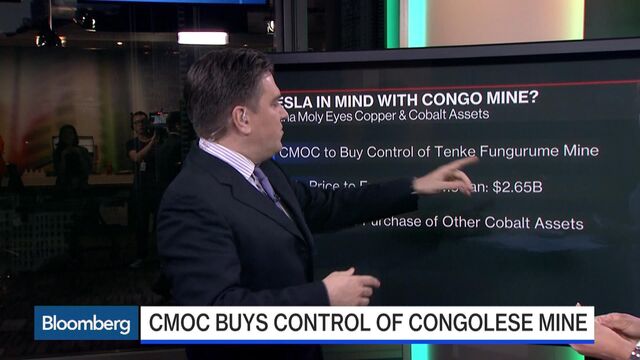 China Molybdenum Co. is the latest company to bet on the future of electric cars with its plans to acquire cobalt assets in the Democratic Republic of Congo.
On Monday, Freeport-McMoRan Inc. agreed to sell its controlling stake in the Tenke Fungurume copper-cobalt mine to CMOC, as the Luoyang, China-based company is known, for $2.65 billion. CMOC is also negotiating to buy Freeport's interests in other cobalt assets.
The deal marks the Chinese company's entry into cobalt, one of the specialty metals used in rechargeable batteries. The battery market is expanding as more consumers turn to electric cars made by companies such as Tesla Motors Inc. and look to store renewable energy to power appliances when there's little wind or sunshine.
"I live in Phoenix and Tesla is building a giga factory just next door in Nevada," Kalidas Madhavpeddi, who heads CMOC International, said in a telephone interview Monday. "Electric cars probably have a growth rate of 11 percent plus a year in terms of batteries. The cobalt market has got a very exciting future."
Copper Bottom
Madhavpeddi is also upbeat on copper's prospects, saying the metal has bottomed out: "If you look at the production side, you have a falling grade for the last 30 years and the supply side won't be able to keep up in the long term."
The Tenke acquisition will immediately boost CMOC's cash flow and earnings, he said. Freeport, which is trying to bring down debt incurred when commodity prices were booming, is a reluctant seller of the DRC mine, Madhavpeddi said.
Freeport's partner at Tenke, Lundin Mining Corp., has 90 days to decide if it will match CMOC's offer, Lundin Chief Executive Officer Paul Conibear said in an e-mail Monday. If it doesn't, Lundin would become CMOC's partner at the site.
Lundin's right of refusal remains open until August 8 after it received a formal notice from Freeport, the company said Monday in a separate statement. The producer will "carefully evaluate all options for its stake in Tenke," Conibear said in the statement.
Prowl Continues
Madhavpeddi said that while he hasn't spoken to Conibear about CMOC's bid for Tenke, they worked together when the asset was originally acquired by Lundin and Phelps Dodge Corp., which was later acquired by Freeport in 2007.
If the deal goes through, CMOC will continue to prowl for industrial and specialty metal assets and will have $1 billion to $1.5 billion in cash and credit available for additional acquisitions, Madhavpeddi said.
Prices for top-tier assets are attractive right now, which suits the company's "opportunistic" buying strategy, although it will be patient in negotiating deals, he said.
"We typically want to buy from people who regret selling it," Madhavpeddi said.
(A previous version of this story corrected the eighth paragraph to say CMOC hasn't spoken to Lundin yet about the Tenke deal.)
Before it's here, it's on the Bloomberg Terminal.
LEARN MORE