China Stocks Sink on Trade Data to Extend Biggest Global Tumble
by
Exports fell 1.8%, while imports dropped for 18th month

People's Daily warns nation must face up to bad-loan risks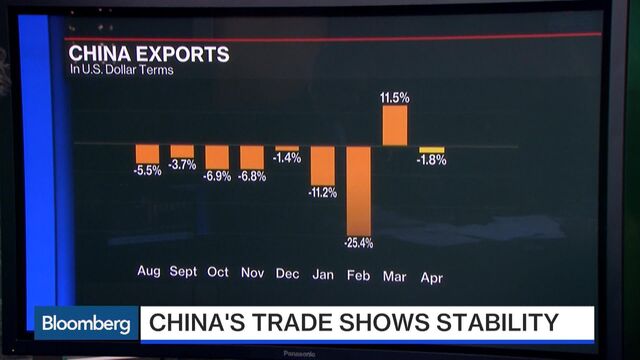 China's stocks capped their biggest two-day loss since late February, led by commodity producers and industrial companies, as trade data disappointed and the People's Daily warned about the country's rising debt in a front-page article.
The Shanghai Composite Index tumbled 2.8 percent at the close, extending Friday's 2.8 percent retreat. A gauge of raw material companies declined to its lowest level in more than two months. The nation's exports fell 1.8 percent in dollar terms in April, data released over the weekend showed, while imports dropped for the 18th month in a row. China needs to face up to its nonperforming loans and put deleveraging ahead of short-term growth, the leading Communist Party mouthpiece said.
Investor sentiment toward Chinese stocks has turned more bearish as a boom in commodities futures waned and data showed March's pick up in economic indicators didn't carry over to April, with manufacturing gauges missing predictions. The Shanghai Composite has lost 20 percent this year, the biggest decline among global benchmark indexes tracked by Bloomberg, following a $5 trillion rout in 2015. Chinese banks' bad loans are at least nine times bigger than official numbers indicate, CLSA Ltd. said last week.

"China's trade import data in terms of dollars were worse than expected," said Sam Chi Yung, senior strategist at South China Financial Holdings Ltd. in Hong Kong. "The service economy is becoming important but domestic demand is getting worse. This is generating negative signals for China's economy and putting pressure on A shares."
Foreign Reserves
The Shanghai Composite ended at 2,832.11, the lowest level since March 11. The gauge's 14-day relative strength index fell to 34, the lowest level in three months. Gauges of industrial companies and commodity producers slumped more than 3 percent on the CSI 300 Index, which declined 2.1 percent. The Hang Seng China Enterprises Index fell for a sixth day, losing 0.3 percent, while the Hang Seng Index added 0.2 percent.
China recorded a trade surplus of $45.6 billion after imports slumped 10.9 percent in April. Separately, a surprise $7 billion increase in China's foreign-exchange reserves in April was partly due to moves in currencies that are part of the stockpile, according to a note from Goldman Sachs Group Inc. economists. Adjusted for estimated valuation effects, the reserves would have decreased by $6 billion, they said.
Original Sin
China should drop the "fantasy" of stimulating the economy through monetary easing, the People's Daily said in a full-page interview with an unnamed "authoritative person" starting on page one and filling the second page]. The nation needs to be proactive in dealing with rising bad loans, rather than delaying or hiding them, the report said. High leverage is the "original sin" that leads to risks in the foreign-exchange market, stocks, bonds, real estate and bank credit, it said.
"Overall, the report suggests to us that future policy easing may be more cautious and that the government may try to hasten the pace of reform," said Zhao Yang, chief China economist at Nomura Holdings Inc. in Hong Kong. Similar commentaries have had a "large impact" in the past, the analyst said in a note.
Potential Losses
Nonperforming loans stood at 15 percent to 19 percent of outstanding credit last year, Francis Cheung, the firm's head of China and Hong Kong strategy, said in Hong Kong on Friday. That compares with the official 1.67 percent. Potential losses could range from 6.9 trillion yuan ($1.1 trillion) to 9.1 trillion yuan, according to a report by the brokerage.
Metal producers paced losses for material producers. Jiangxi Copper Co. fell 3.8 percent, while Aluminum Corp. of China Ltd. retreated 4.4 percent. Copper led industrial metals lower in London, extending its worst weekly slide since November, after China slashed purchases from a record high. The metal fell as much as 2.2 percent on the London Metal Exchange, while steel reinforcement bar futures in Shanghai and iron ore in Dalian slumped by more than 6 percent in early Asian trade Monday.
Sany Heavy dropped 6 percent, its biggest drop since Feb. 25. Coal companies led declines for energy shares, with Shanxi Xishan Coal & Electricity Power Co. and Yanzhou Coal Mining Co. tumbling 10 percent.
U.S.-traded Chinese companies that have announced plans to return home fell late Friday after the China Securities Regulatory Commission said it's reviewing market concerns about a record wave of businesses seeking higher mainland valuations with relistings there.
The CSRC is conducting "in-depth analysis and research" about the impact of the deals, spokesman Zhang Xiaojun said at a briefing in Beijing on Friday, specifically mentioning the use of mainland shell companies as vehicles for returning home.
Before it's here, it's on the Bloomberg Terminal.
LEARN MORE