China's Anonymous Economic Oracle Signals Shift From Debt
Bloomberg News
Unnamed writer in party paper seen as warning from on high

Underscores opaque policy making in world's No. 2 economy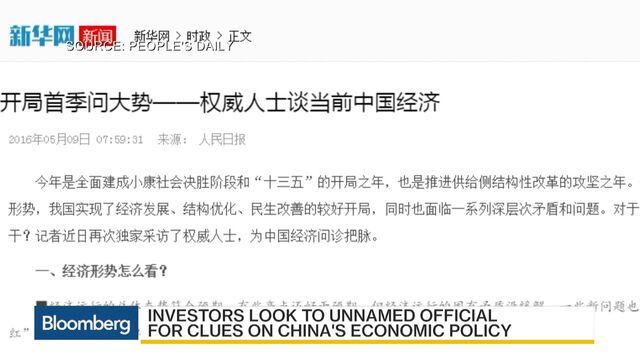 To get a read on U.S. economic policy, investors may parse minutes from Federal Reserve meetings. In Europe, they scrutinize Mario Draghi's public remarks. When it comes to China, they're increasingly studying an "authoritative person's" anonymous prognostications in the Communist Party's most important newspaper.
For the third time in less than a year on Monday, the People's Daily published an extended interview with an unnamed official expounding the policies needed to address challenges facing the world's second-largest economy. As in similar pieces in January and last May, which both preceded big stock market sell-offs, the speaker sought to clear up what were presented as misunderstandings about China's policy plans.
Monday's page-one takeaway: Excessive debt was China's "original sin" and the country can't borrow its way to long-term economic health. The message contrasts with what investors have been presented in recent months: a record jump in credit that had helped stabilize the economy and led some to forecast a return to old-fashioned, leverage-based stimulus.
Signal Shift
"It is very significant and may signal a shift in China's policies," said Shen Jianguang, chief Asia economist at Mizuho Securities Asia Ltd. in Hong Kong. "Each time they publish this, it is normally a warning."
The benchmark Shanghai Composite Index fell 2.8 percent Monday, led by commodity producers and industrial companies, and reached its lowest level since March 11. Prices of the raw materials of investment-based growth -- iron ore traded in Dalian and steel reinforcement-bar in Shanghai -- slumped by the exchange-set limit for a day.
The People's Daily article, which ran more than 11,000 words, quoted the authority as saying that "contradictions" in the economy didn't ease in the first three months of the year, even as new problems emerged. Because of that, it was hard to describe the quarter as a "good start" or a "warm spring," the person said.
"A tree cannot grow up to the sky -- high leverage will definitely lead to high risks," the person said. "Any mishandling will lead to systemic financial risks, negative economic growth, or even have households' savings evaporate. That's deadly."
Oracle Speaks
For excerpts, read: China's 'Authoritative' Warning on Debt.
The article underscores China's opaque decision-making process, which has long vexed investors and foreign officials alike, forcing them to read great meaning into nuanced messages. While the "authoritative" person was unnamed, the presence the article on the front page of the People's Daily -- space usually reserved for recapping the daily activities of President Xi Jinping -- indicates approval at the highest level. 
"It should be understood as a consensus view reached at the senior level, rather than an individual point of view," said Han Meng, a senior researcher at the Chinese Academy of Social Sciences Institute of Economics in Beijing.
The authoritative person's remarks can be seen as coming from the "top leadership," the international edition of People's Daily said in another piece published on its official WeChat account later Monday. It said the message was intended for two groups: the general market, along with government officials at all levels.
Mao Times
The use of the "authoritative person" term dates back to the newspaper's earliest days under Mao Zedong, and was often used when some senior officials wanted "to express views, but at the same time it was inconvenient to be frank," the People's Daily wrote after the first of the three economic pieces last May.
Xi and Premier Li Keqiang have vowed to restructure the economy and dial back the borrowing embraced by their predecessors during the global financial crisis. Monday's article sought to reaffirm that pledge, which was undercut by a 4.6 trillion yuan ($706 billion) increase in new credit in the first quarter. 
In March, S&P Global Ratings cut the outlook for China's sovereign grade to negative from stable after a similar revision by Moody's Investors Service, which questioned the government's ability to enact reforms. China has accumulated debt faster than any Group of 20 nation over the past decade, climbing to 247 percent of gross domestic product, according to Tom Orlik, an economist for Bloomberg Intelligence.

George Magnus, a senior independent economic adviser to UBS Group AG, said Monday's article was "bizarre" and gave investors no way of evaluating whose interests it reflected.
"I take it as political games," Magnus said. "If China were serious about putting the credit genie back in the bottle -- with all the implications for banks, bad-debt recognition, write-offs, growth and jobs -- someone would say it out loud and take responsibility. Until that happens, I'm afraid the only danger is we read too much into this."
The first article -- entitled "Five Questions on the Chinese Economy" on May 25, 2015 -- sought to assure the public that authorities were in full control of the country's growth slowdown as stocks soared to dizzying heights. Within a month, equities began to slide in what would would eventually spiral into a $5 trillion rout.
L-Shaped
A second piece, on Jan. 4 -- "Seven Questions on Supply-Side Reform" -- heralded in a rocky start to the trading year, as stocks plunged 7 percent and triggered the country's ill-fated circuit breaker. In that article, the "authoritative person" said China was headed for an "L-shaped," rather than U- or V-shaped, recovery amid efforts to cut excess industrial capacity.
After the 10 percent average growth rates of the 1980s, 1990s and 2000s came to an end earlier this decade, the Communist leadership targeted a 6.5 percent to 7 percent pace -- a goal still in excess of the rate many economists say would be consistent with a full-blown structural reform campaign. The International Monetary Fund projects a 6 percent expansion on average over the coming five years.
The latest article said confidence in China's economy was valid, even as it reiterated the "L-shaped" growth pattern quip and said weak demand and overcapacity would persist through the coming years.
On Tuesday, the China Securities Journal reported that authorities including the National Development and Reform Commission and the Ministry of Industry and Information Technology were accelerating a draft plan to deal with unproductive "zombie companies" and cut overcapacity. The newspaper didn't say where it got the information.
"The rhetoric changed very fast in China, so it's confusing to read the policy tea leaves, which seem to shift every few months," Wu Zhili, an analyst at Shenhua Futures Co., said by phone from Shenzhen Monday. "This morning, the People's Daily seemed to blow wind in the opposite direction again."
— With assistance by Ting Shi, Keith Zhai, and Enda Curran
Before it's here, it's on the Bloomberg Terminal.
LEARN MORE