Canadian Stocks Decline as Commodity Prices Fall With Crude Oil
by
Bloomberg Commodity Index down fifth time in six sessions

Canadian wildfires set to move way from oil-sands facilities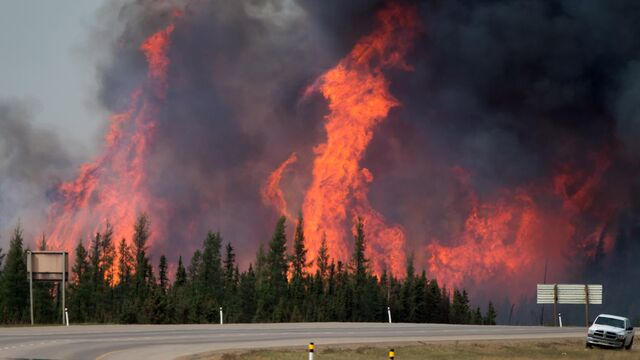 Canadian stocks slid, extending last week's retreat, as commodity prices fell and wildfires raging through Alberta appeared set to move away from one of the country's oil-producing regions.
The benchmark S&P/TSX Composite Index lost 1 percent to 13,563.84 at 4 p.m. in Toronto, falling for the first time in three sessions. The gauge now trades at 20.6 times earnings, about 7.9 percent higher than the S&P 500's 19.1 times earnings valuation, data compiled by Bloomberg show. Volume in the measure was about 7 percent lower than the 30-day average at closing time.
The Bloomberg Commodity Index dropped for the fifth time in six sessions. All but seven companies in the S&P/TSX raw-materials index slid on Monday. Teck Resources Ltd. and First Quantum Minerals Ltd. led losses, slumping more than 11 percent.
Gold producers also fell with the precious metal, which lost 2.1 percent to $1,266.60 an ounce in New York, the biggest loss since Feb. 16. Yamana Gold Inc. sank 7.3 percent, while Barrick Gold Corp. lost 5.5 percent, the most in six weeks.
Crude oil fell 2.7 percent to a two-week low, as shifting winds moved wildfires away from oil-sands facilities in Alberta, reducing concern that production cuts would make a substantial dent in U.S. oil stockpiles. Suncor Energy Inc. dropped 1.8 percent, and Encana Corp. sank 4.1 percent to a one-month low.
Consumer discretionary stocks led gains in the S&P/TSX with advances of at least 3.8 percent in Performance Sports Group Ltd and Dorel Industries.
Temple Hotels Inc. tumbled 15 percent, the most in seven years. The shares had surged 56 percent in the three prior sessions amid the wildfires in Alberta. The company has nine properties in the Ft. McMurray area, with insurance coverage for loss of revenue.
Valeant Pharmaceuticals International Inc. fell 5.2 percent to weigh on the health-care group, with the stock dropping for the sixth time in seven days. The embattled drugmaker reiterated its revenue and earnings estimates for the first quarter, saying it expects to submit its regulatory filing by June 10, ahead of a July 31 deadline in its debt agreement.
Before it's here, it's on the Bloomberg Terminal.
LEARN MORE