Rousseff's Ouster Hits Snag as Impeachment Vote Annulled
by , , and
The surprise decision sparked a selloff in Brazilian assets

The opposition says it will file a legal appeal if needed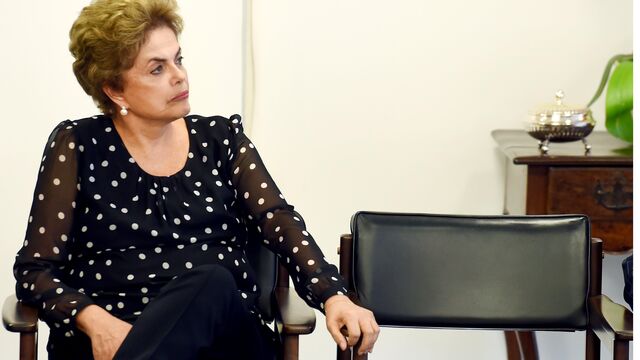 The drive to oust Brazilian President Dilma Rousseff suffered a glitch on Monday when the head of the lower house called for a new vote on her impeachment, a surprise move that prompted a selloff across local markets.
While analysts said the decision won't be enough to save Rousseff's mandate, it does highlight how vulnerable the process is to legal challenges that could keep Latin America's largest economy in limbo for a while longer. The Senate was expected to vote this week whether to put Rousseff on trial and temporarily remove her from office on charges of illegally financing the budget deficit.
QuickTake Behind Brazil's Impeachment Process
"I don't think this will delay the voting," said Ricardo Ribeiro, political analyst at Sao Paulo-based business consulting firm MCM.
Interim lower house President Waldir Maranhao said he annulled last month's impeachment vote in the lower house because of procedural irregularities. The decision comes in response to a request from the attorney general's office, which has been leading the legal defense of Rousseff.
There are several possible scenarios going forward. The opposition could appeal his decision before the Supreme Court or the lower house board, which is made up of legislators who manage the chamber's operations. Also, the Senate could effectively ignore him and vote this week as originally scheduled.
The real and the Sao Paulo stock exchange pared losses after falling as much as 4.6 percent and 3.5 percent, respectively, following Monday's announcement. The real fell 0.6 percent to 3.52 per U.S. dollar in mid-afternoon trading, and the Ibovespa stock index was down 1.5 percent.
'Anything-goes' Attitude
The Brazilian bar association, which supports efforts to impeach Rousseff, opposed Maranhao's move.
"This type of action represents momentary interests of some political groups but ignores legitimate decisions that have already been taken," the association said in a statement. A society in crisis cannot tolerate an "anything-goes" attitude that doesn't respect the constitution, it said.
Opposition parties will challenge the decision in court Monday if necessary, said Pauderney Avelino, head of the Democratas party in the lower house. Pro-impeachment group Movimento Brasil Livre said it will hold protests in Sao Paulo on Monday evening, just hours after supporters of the government are scheduled to march in the same place.
"We won't accept it. He doesn't have that authority," Avelino said in reference to Maranhao.
The government's leader in the lower house, Jose Guimaraes, said Maranhao didn't annul the entire impeachment process but only the April 17 vote, which the opposition won by a wide majority.
'Every Time'
"The house can call as many votes as it wants, the result will be the same every time," said Edwin Gutierrez, head of emerging-market sovereign debt at Aberdeen Asset Management in London, who oversees an $11 billion portfolio. "It's not like impeachment lost by one vote in the house."
In his decision, Maranhao argued that parties shouldn't have given guidance to legislators on how to vote and that legislators shouldn't have announced their voting intention ahead of time. Attorney General Jose Eduardo Cardozo said later Monday that he agreed with Maranhao's arguments, though he didn't know about the decision ahead of time.
Maranhao asked Senate chief Renan Calheiros to send the impeachment motion back to the lower house. The Senate will announce its decision in Monday's session, which is scheduled for 4 p.m. local time, said Jorge Viana, a vice president of the Senate.
Beto Mansur, who sits on the lower house board, called Maranhao's decision absurd and said he expected Calheiros to ignore it. Maranhao replaced Eduardo Cunha as lower house president after the Supreme Court suspended him from office last week.
Before it's here, it's on the Bloomberg Terminal.
LEARN MORE