Brazil Markets Thrown Into Disarray as Impeachment Vote Annulled
by and
Interim lower house chief annuls vote that backed impeachment

Senate chief says impeachment procedure will continue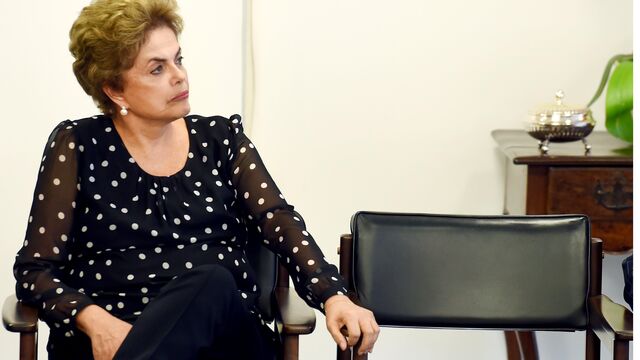 Brazilian markets were thrown into turmoil after the effort to impeach President Dilma Rousseff appeared to hit a roadblock, spurring concern that some of the world's biggest stock and currency rallies would be undone.
The Ibovespa stock benchmark plummeted as much as 3.5 percent and the real weakened as much as 4.6 percent, the most since September 2011, before paring some of those losses. The selloff was sparked after the interim chief of Brazil's lower house called for a new vote on the impeachment, accepting an argument by the attorney general that the ballot last month had procedural irregularities. The Senate decided to continue with the impeachment process.

The Ibovespa and real posted the biggest rallies among major markets this year on speculation Rousseff's ouster would usher in a new government better able to pull Latin America's biggest economy out of its worst recession in a century, tame inflation and reduce a fiscal deficit. Analysts were split on how much of an impediment Monday's annulment represented, while investors were quick to sell after the initial headlines.
"This was never going to be a smooth and orderly process, something which is now plain for all to see," said Nicholas Spiro, a partner at Lauressa Advisory Ltd., said from London. "The sharp improvement in sentiment towards Brazil has been an emotionally fueled 'anyone-but-Dilma' rally that never looked convincing from the start."
The Senate had been scheduled to vote this week on whether to move forward with the impeachment and compel Rousseff to stand trial on allegations she used state banks to shore up the government's accounts. The Senate will move ahead with impeachment proceedings against Rousseff, said the head of the chamber, Renan Calheiros.
Calheiros said he "doesn't recognize" Maranhao's decision and will move forward with the impeachment motion. Opposition parties will challenge the decision in court today if necessary, according to Pauderney Avelino, head of the Democratas party in the lower house.
"Changing the game plan now is crazy," said Reginaldo Galhardo, a foreign exchange manager at Treviso Corretora de Cambio in Sao Paulo. "People will have to reconsider everything. It is hard to imagine how."
After the initial panic, Brazilian assets pared the worst of the day's losses. The Ibovespa fell 1.4 percent to 50,990.07 and the real weakened 0.4 percent to 3.5164 per dollar as of in Sao Paulo. The cost of hedging the country's sovereign debt against losses using five-year credit-default swaps rose 6.1 basis points to 347.56 basis points.
Petroleo Brasileiro SA, the state-controlled oil company, sank 6 percent. Iron-ore producer Vale SA declined 8.6 percent while foodmaker JBS SA lost 4.3 percent to the lowest since January. Yields on the government's $4.3 billion of bonds due in 2025 rose 0.02 basis points to 5.23 percent.
The lower house chief's decision could just be a temporary setback for efforts to impeach Rousseff, according to Edwin Gutierrez, the head of emerging-market sovereign debt at Aberdeen Asset Management in London, which oversees an $11 billion portfolio.
"The House can call as many votes as it wants," he said. "The result will be the same every time."
The Ibovespa plunged 42 percent in dollar terms last year as the real gave up a third of its value as the country lost its investment-grade credit rating while business confidence eroded. Brazil, a global superstar a decade ago when its economy was rapidly expanding, has suffered with a plunge in the prices of its commodity exports and a collapse in business confidence.
This year, the real is the best-performing major currency, stocks have soared 29 percent in dollar terms, and bond yields are plunging amid speculation that a new administration will push through a slew of austerity measures and reforms to stabilize the ailing economy. Vice President Michel Temer was expected to take over temporarily as soon as this week and name new cabinet officials broadly supported by investors and the business community.
"Markets were considering it would be a simple procedure," said Enestor dos Santos, the principal economist at Banco Bilbao Vizcaya Argentaria SA in Madrid. "Maybe there has been some exaggeration in the optimism."
Before it's here, it's on the Bloomberg Terminal.
LEARN MORE