Brazil Analysts Raise 2016 Inflation Forecast on April Surprise
by
Economists also lower Selic rate forecast to 13% from 13.25%

Senate expected to vote on Rousseff's ouster this week
Brazil economists raised their 2016 inflation forecast for the first time in nine weeks after April's consumer prices index came in higher than all analysts forecast.
Economists raised their 2016 forecast for the IPCA index to 7 percent, up from 6.94 percent in the prior week, according to the weekly Focus survey conducted May 6. They also lowered their Selic call to 13 percent from 13.25 percent previously.
Inflation has been stubborn in slowing, and remains at more than double the official target. That's left policy makers saying their baseline case doesn't allow for monetary easing, even as economists and traders both expect the central bank to begin lowering the benchmark rate this year. It is still unknown who will helm the central bank if President Dilma Rousseff is forced aside to face an impeachment trial, and less clear still what approach the bank's board would adopt for monetary policy.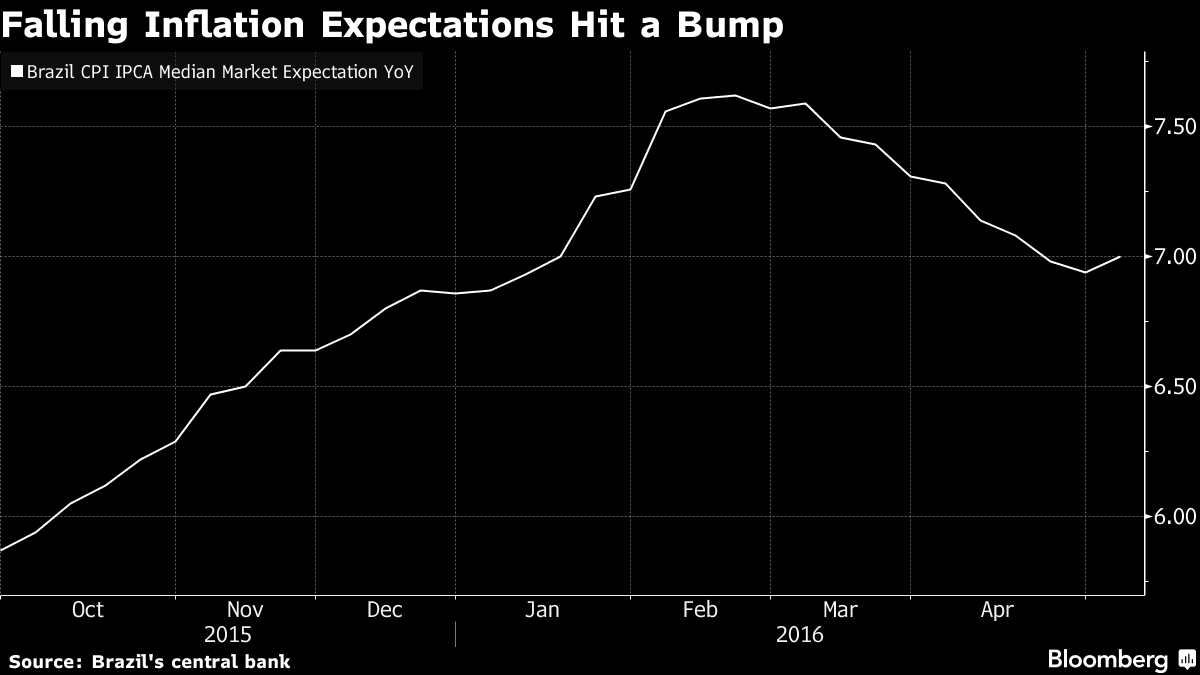 Faster-than-expected inflation last month explains the increase in the 2016 projection, according to both Banco Mizuho do Brasil's chief strategist Luciano Rostagno and Rafael Goncalves, an analyst in Gradual Investimentos' economic department. The benchmark IPCA consumer price index climbed 0.61 percent in April, bringing twelve-month inflation to 9.28 percent.
Central bank directors in their monetary policy meeting last month unanimously decided to hold rates unchanged at 14.25 percent. Vice President Michel Temer will take over for Rousseff on at least a temporary basis if the Senate votes to open impeachment trial this week.
Before it's here, it's on the Bloomberg Terminal.
LEARN MORE