Alberta Bonds Down But Not Out as Wildfires Add to Oil-Drop Pain
by
Strong debt-to-GDP ratio and credit rating helps province

Province's bonds have underperformed Ontario since budget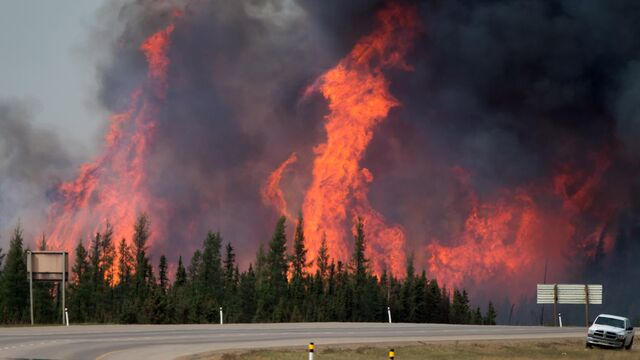 It will take more than raging wildfires, an oil price shock and rising deficit to shake investors' faith in Alberta's bonds.
"The province is still in very strong financial shape," according to Hosen Marjaee, senior managing director at Manulife Asset Management Ltd. in Toronto, who helps manage C$35 billion ($27 billion) in Canadian fixed-income. "They don't have as much debt outstanding as other provinces, so the credit quality is still strong, even though during this time period they're getting hit with a variety of issues."

Yields on Alberta debt have widened against benchmark Ontario bonds since wildfires swept through Fort McMurray, the hub of the province's oil-sands industry, displacing more than 80,000 people and cutting crude output by as much as 40 percent, according to some estimates. The fires are the latest blow to a province already grappling with a 60 percent slump in the price of crude since June 2014, which is projected to push its deficit to C$10.4 billion this year, according to budget documents.
The wildfires, which have razed entire neighborhoods and knocked about a third of the power flowing through Alberta's oil-sands operations, prompted Bank of Montreal to cut its estimate for Canada's second-quarter growth to zero from 1.5 percent. Royal Bank of Canada also cut its growth estimate to 0.5 percent from 1.5 percent if the oil shutdowns last for two weeks. Moody's Investors Service said that, despite the economic damage, the credit impact "will be minimal."
Cold Front
Cooler temperatures on Monday were helping fire fighters battle the wildfires, which grew slower than expected and covered about 1,600 square kilometers (994 square miles), according to the Alberta government. The blazed knocked out an estimated 1 million barrels of daily oil production.
Oil-sands producers including Suncor Energy Inc. could resume production within a week after the threat subsides, according to Wood Mackenzie Ltd.
The average spread on Alberta debt swelled to 88 basis points, or 0.88 percentage point, from 85 basis points on May 2, the day before evacuations began, according to Bank of America Merrill Lynch data. Spreads on the province's 10-year 2.35 percent coupon bonding maturing in 2025 have widened to about 102 basis points over Government of Canada debt from about 99 on May 2, according to data compiled by Bloomberg. Spreads on other provincial bonds also widened during the same period.
The government unveiled a budget that removed the 15 percent debt-to-GDP cap and planned record borrowing this fiscal year in order to tackle the province's flagging economy. Alberta also lost its AAA rating at S&P Global Ratings and Moody's amid the agencies' concerns the collapse in crude oil would weigh on the province's finances.
Definitely Interested
The province plans to tap the the bond market for C$14.1 billion to finance operations for the first time in 22 years and its ratio of debt to gross domestic product is forecast to jump to 9.6 percent this year from just 3.4 percent in 2014-15, according to budget documents. It will rise to almost 16 percent in 2018-2019.
Still, Alberta is in better shape than most of its provincial peers, Marjaee said. Ontario's debt-to-GDP ratio stands at about 40 percent and Quebec's is at about 55 percent. Even after its recent downgrades, Alberta's Aa1 Moody's credit rating is stronger than Ontario's recently upgraded Aa2 credit rating. Marjaee is waiting for the right moment to buy the province's debt.
"We want to see both stability in the spread movement and stability in the province's finances," he said in a phone interview. "At that time, we will definitely be interested in adding exposure to the province."
Has Options
It's too early to tell what the impact will be from the disaster, but it's going to put the province further into fiscal deficit this year, Joey Mack, director of fixed income at GMP Securities LP, said by phone from Toronto.
But Mack said the wildfires are a one-time event and not overall credit-negative for the province, even with the ongoing economic challenges poised by the oil price decline. He agrees with Marjaee that the province's low debt-to-GDP ratio is a positive.
"They have a lot of room to do things," he said. "Not so much the spending side, but they could definitely raise taxes. There's no sales tax in Alberta."
Marjaee said he is going to keep an eye on what the recovery cost will be to Alberta and how much aid they are going to get from the federal government. A C$1 to 2 billion cost would be manageable to Alberta, and he sees economic growth from rebuilding Fort McMurray, he said.
"People have to come back and build houses, schools, hospitals, everything," Marjaee said. "That will be a positive for the economy in the near future."
Before it's here, it's on the Bloomberg Terminal.
LEARN MORE