Photographer: Alfred Gescheidt/Getty Images
Good Rain Forecast for Parched India Lifts Growth Prospects
by
SBI sees `double delight' from monsoon on growth, inflation

Government forecasts best seasonal rainfall since 1994
After back-to-back droughts battered India's farmers, a forecast for above-normal rainfall this year is brightening the outlook for Asia's third-largest economy.
Economists at DBS Bank Ltd., State Bank of India and Standard Chartered Plc say India's gross domestic product this year may grow more than they previously predicted if the monsoon is as good as the government's initial forecast in April. The June-September rains water more than half of the nation's farmlands, making them crucial for the more than 70 percent of Indians who depend on agriculture.
"A higher number" for GDP growth is possible in the year through March 2017 if the monsoon turns out to be among the stronger ones, said Anubhuti Sahay, head of South Asia economic research at Standard Chartered. Her current forecast is for a 7.4 percent expansion.
A revival in the countryside would ignite another engine for India's economy, which is expanding below potential despite boasting the fastest growth rate among major emerging markets. It would also be a political boon for Prime Minister Narendra Modi, who has sought to counter rising discontent in villages ahead of key state elections with a pledge to double farmer incomes by 2022.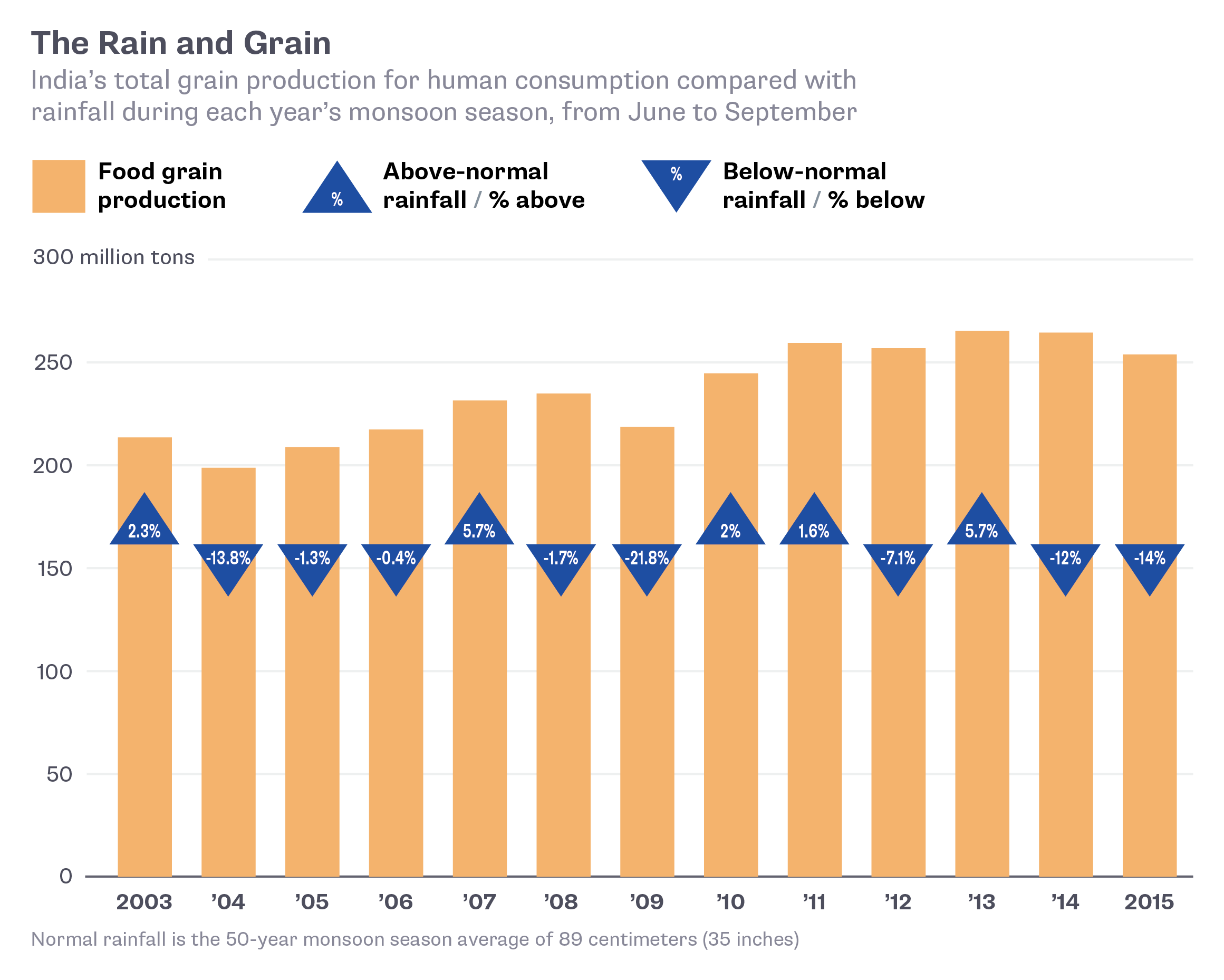 This year's monsoon is particularly important after the first consecutive droughts in three decades left vast tracts of India reeling. The nation's main reservoirs hold 37 percent less water than they did a year ago, the government said on Thursday.
The India Meteorological Department on April 12 forecast that the monsoon would be 106 percent of the 50-year average rainfall, which would be the best since 1994. Many economists already factored normal rainfall into their forecasts. The median of 32 surveyed by Bloomberg expect 7.7 percent growth in the year through March 2017, compared with the government's official projection of as much as 7.75 percent.
The Meteorological Department's more upbeat forecast "is going to bring double delight" by helping the economy and taming food inflation, SBI's Soumya Kanti Ghosh wrote to investors last month. GDP growth in the current fiscal year could be close to 8 percent and the benchmark interest rate would have room to fall as much as half a percentage point, he said in an e-mail.
Finance Minister Arun Jaitley is even more optimistic. He told investors in New York that growth could be as high as 8.5 percent in the current fiscal year if the rains meet the government's forecast, Citigroup said in a research note last month.
Radhika Rao, an economist with DBS, said in an April 29 report that her GDP forecast of 7.6 percent could rise by 30 basis points if agriculture output doubled her current projections.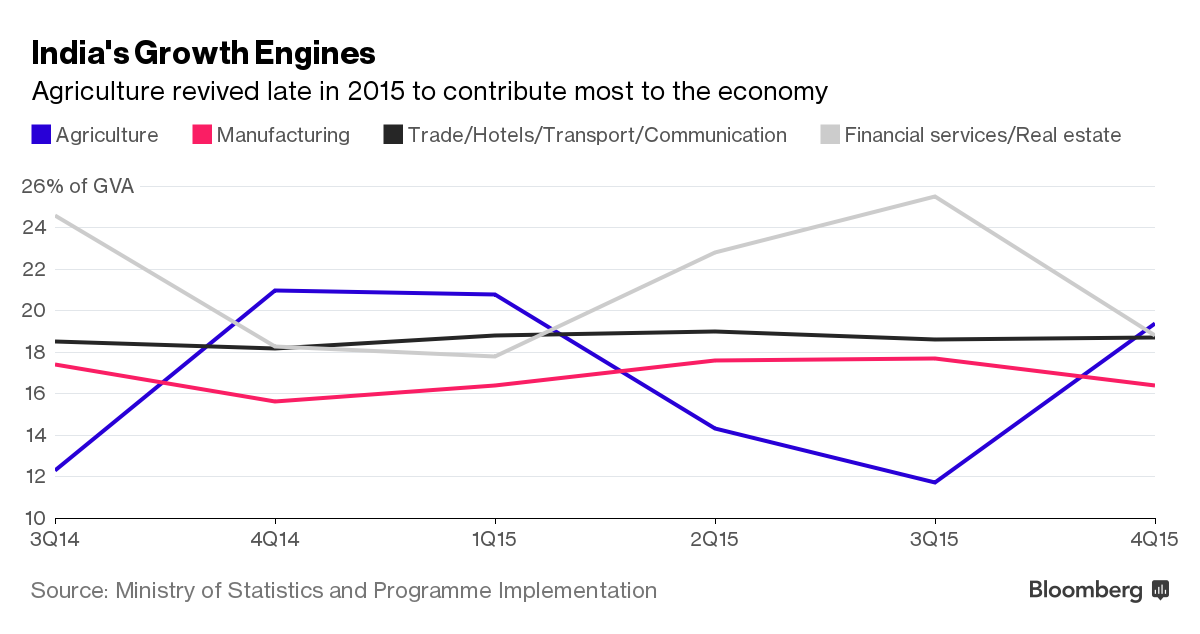 Still, not everyone's as confident. Analysts at IndiaRatings, Fitch's local unit, last week cut their growth forecast to 7.7 percent from 7.9 percent, saying better farm output won't offset sluggish industry. Deutsche Bank predicts that any impact from a better-than-expected monsoon will show up only in the year that starts April 2017, when it adds to the stimulus effect of a pay raise for government employees.
"Global economic conditions however would need to be stable for India to achieve 8 percent growth, which is a big uncertainty in today's world," Deutsche's Kaushik Das and Taimur Baig wrote in an April 29 note. "The magnitude and pace of the expected recovery continue to be uncertain."
The euphoria around the monsoon forecast only serves as a reminder of how insufficient public investment in agriculture has been, leaving the country overdependent on rainfall, said Kunal Kundu, a Bengaluru-based economist at Societe Generale SA. He expects growth to slow down to 7.3 percent from an estimated 7.5 percent last year on weak agriculture output.
"A normal monsoon season will surely come as a relief but expecting a magical result is too ambitious," Kundu wrote in an April 26 note. "When policymakers look up to the sky, it indicates policy failure."
Before it's here, it's on the Bloomberg Terminal.
LEARN MORE