South Africa Gains Ground in Rhino Poacher Battle, Minister Says
by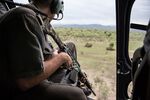 Rhino killings in South Africa have fallen in recent months, even though the number of poaching incidents has increased, the country's Minister of Environmental Affairs Edna Molewa said Sunday.
There were 1,038 rhino poaching incursions in South Africa's biggest national reserve, the Kruger National Park, in the first four months of 2016, up from 808 a year earlier. Yet the number of animals killed for their horns fell to 232 from 302.
"We are optimistic that this is the year in which we turn the tide on rhino poaching," Molewa said in a statement. "We are under no illusions of the challenges ahead, but we are confident that slowly, but surely, progress is being made."
Rhino-horn demand has climbed in Asian nations, including China and Vietnam, because of a belief that they can cure diseases such as cancer and even ease a hangover. The price of the horns is as much as $95,000 per kilogram in Asia, more valuable than gold.
On a national level, 363 rhinos were killed by poachers in South Africa since the start of the year, down from 404 the previous year. The number of deaths has surged since 2007, when only about a dozen were killed.
Before it's here, it's on the Bloomberg Terminal.
LEARN MORE