RBA's New Head Seen Facing Risk of Rate Cuts to 1% by JPMorgan
by
Lowe in 2012 put unconventional policy threshold at around 1%

Median forecast of economists is for cut to 1.5% in August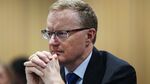 Philip Lowe may have only a few months to settle in as Australian central bank chief before he has to consider cutting the cash rate to levels he's previously said have questionable benefits.
The need for easing looked more urgent Friday after the Reserve Bank of Australia conceded core inflation will probably miss the bottom of its 2 percent to 3 percent target this year and may undershoot into the middle of 2018. While the bank gave no guidance on rates, swaps traders pushed to about 60 percent odds that Governor Glenn Stevens will lower the benchmark to 1.5 percent before his term ends Sept. 17. JPMorgan Chase & Co. said Lowe may have to reduce rates to 1 percent or less.
"The RBA has made some pretty brutal downgrades to their inflation forecasts and that just means you've got to try and run growth stronger than it otherwise would be," said Sally Auld, the head of fixed-income and currency strategy for Australia at JPMorgan. "It's probably not correct to say that the RBA is going to stop at 1.5 percent, they might have a bit of a breather after they get there, but with these forecasts the risk is that we head toward 1 percent."

Lowe takes over the monetary management of an economy that's weathered a downturn in mining investment better than some had expected though the struggle to ensure price growth remains. The central bank on Friday left its estimate for economic expansion at 2.5 percent to 3.5 percent this year and next and predicted unemployment will remain around the current 5.7 percent.
Despite growth forecasts that put it among the best-performing developed economies, Australia hasn't been immune to the scourge of low inflation afflicting the U.S., Japan and Europe. Record-low Australian price growth that averaged 1.6 percent in the first quarter prompted the RBA to ease this month for the first time in a year.
The central bank's focus Friday on inflation expectations was notable given the phrase appeared 16 times in a document that rarely mentions it, said Joseph Capurso, a senior currency strategist in Sydney at Commonwealth Bank of Australia.
"It is very hard to lift inflation expectations when they are low and Japan is a good example of this," he said. "The RBA is cutting again; the only question is how many times."
Policy Threshold
Asked about the threshold for unconventional monetary policy in 2012, the year he took over as deputy governor, Lowe said hypothetically it would be "around 1 percent, plus or minus a bit." The cash rate at the time was 3 percent, while core inflation was averaging 2.3 percent.
Economists predict Governor Stevens will reduce rates to 1.5 percent in August and keep them there through the second quarter of 2017, based on the median estimate in a Bloomberg survey. Swaps traders are pricing a move to 1.33 percent in a year.
Royal Bank of Canada broke from the pack to forecast action as soon as next month.
The RBA's statement of monetary policy "hints at a central bank that may be somewhat behind the curve," Su-Lin Ong, the head of Australian economic and fixed-income strategy at RBC, wrote in a report. "The risks are skewed to the downside to our 1.5 percent forecast for the end of 2017."
There is an increasing risk that global disinflationary pressures and easing drag the central bank toward 1 percent, James McIntyre, head of economic research at Macquarie Group Ltd., wrote in a report. Markets may price in around 50-50 odds of a cut to 1.25 percent in November, TD Securities said in a report.
"If you're going to be true to your mandate you've got to keep trying, you can't just give up, because then you risk a collapse in inflation expectations," JPMorgan's Auld said. "The RBA is also going to become much more sensitive to the growth story."
Before it's here, it's on the Bloomberg Terminal.
LEARN MORE