Oil Falls to Two-Week Low as Wildfires in Canada Shift Direction
by
U.S. stockpiles offset impact of production cuts in Alberta

Normal output levels can be restored in a week: Morgan Stanley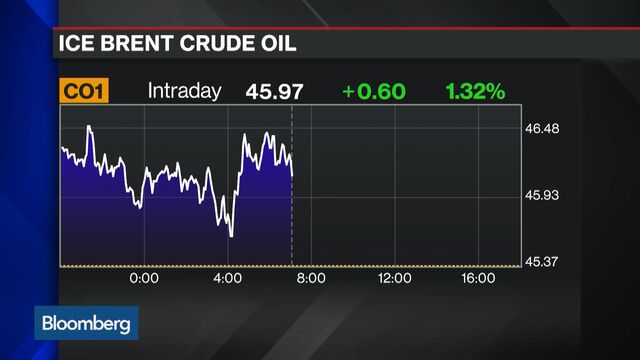 Crude settled at the lowest level in two weeks as shifting winds moved wildfires away from oil-sands facilities in Alberta, reducing concern that production cuts would make a substantial dent in U.S. oil stockpiles.
Futures erased intraday gains and declined 2.7 percent in New York. Wildfires in Canada have led to cuts equivalent to about 40 percent of oil-sands production, based on IHS Energy estimates. The impact of a reduction in output may be muted due to U.S. crude stockpiles holding at the highest level since 1929. Once fires in Alberta are under control, the majority of oil sands mining projects can be back to normal production levels in about one week, Morgan Stanley said.
"Without any damage, then the barrels lost are inconsequential, because we're still at all-time record highs for U.S. storage," Michael Hiley, head of over-the-counter energy trading at New York-based LPS Partners, said by telephone.
U.S. crude inventories have climbed to 543.4 million barrels, the most since October 1929, according to data from the Energy Information Administration. Nationwide crude stocks are forecast to have increased by 750,000 barrels last week, according to the median estimate in a Bloomberg survey of analysts before the EIA report Wednesday. Supplies at Cushing, Oklahoma, the delivery point for WTI and the nation's biggest oil-storage hub, are near a record.

West Texas Intermediate for June delivery dropped $1.22 to settle at $43.44 a barrel on the New York Mercantile Exchange. Total volume traded was 32 percent above the 100-day average.
Brent for July settlement slipped $1.74 to end the session at $43.63 a barrel on the London-based ICE Futures Europe exchange. WTI for July was at a 40-cent premium to Brent. The last time the premium widened to more than 30 cents was in March.
Canadian Restarts
Assuming a 10-day ramp-up in activity, Alberta could lose about 650,000 barrels a day for three weeks, or almost 14 million barrels in total, Goldman Sachs's analysts including Jeffrey Currie said in a report Monday. "While significant, such a disruption would have an only limited impact on overall North American crude inventories."
Suncor Energy Inc., Royal Dutch Shell Plc and Husky Energy Inc. are among companies that have shut plants or reduced production in Alberta due to the wildfires. Suncor, Phillips 66 and Statoil ASA have declared force majeure -- a provision protecting companies from liability for contracts that go unfulfilled for reasons beyond their control -- on supplies from the region.
Cooler temperatures are helping fire fighters battle the blaze. Damage to oil-sands sites has been limited and some companies are already planning to restart facilities. Suncor said it has begun planning to resume production after moving more than 10,000 employees, families and Fort McMurray residents out of the region.
Saudi Oil Minister
Oil prices remain about 60 percent below their peak in mid-2014 as the global oversupply persists. While American production has dropped, the Organization of Petroleum Exporting Countries has boosted supply to more than 33 million barrels a day, underpinned by gains from Iran and Iraq.
Saudi Arabia, the world's largest crude exporter, replaced its oil minister Ali al-Naimi over the weekend with the chairman of state energy company Saudi Arabian Oil Co. Khalid Al-Falih. Speaking in January at the World Economic Forum in Davos, Al-Falih indicated that Saudi Arabia plans to act vigorously to defend its market share and exports as the market re-balances.
"The shake-up in Saudi Arabia confirms what was in the process of happening," John Kilduff, partner at Again Capital LLC, a New York hedge fund focused on energy, said by telephone. It's an "even firmer stance on their part to battle for market share and use oil to hurt the frackers and Iran and continue to oversupply this market."
More oil-market news:
Cushing, Oklahoma crude inventories increased by 1.1 million barrels in the week ended May 6, according to a forecast compiled by Bloomberg.
Chevron Corp. and Royal Dutch Shell Plc have evacuated oil workers from the Niger Delta, according to Chika Onuegbu, State Chairman of the Trade Union Congress of Nigeria, Rivers state.
China imported 32.58 million metric tons of oil in April, data from the Beijing-based General Administration of Customs showed on Sunday. That's equivalent to 7.96 million barrels a day, up 3.2 percent from the previous month and near a record 8.04 million in February.
Before it's here, it's on the Bloomberg Terminal.
LEARN MORE