U.S. Stocks Rise as Drugmaker Gains Offset Slide in Commodities
by and
Oil falls as Canada fires shift away from oil-sands sites

Brazil's real drops with Philippine peso on politics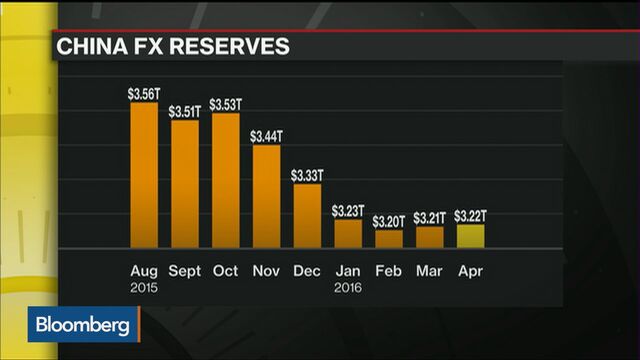 U.S. equities fluctuated Monday, ending the session higher as gains in health-care and consumer shares offset disappointing Chinese trade data, while prospects for increases in U.S. interest rates dragged commodities lower.
Drugmakers and retailers led a 0.1 percent advance in the S&P 500, while energy and raw-material producers slid. Oil tumbled after shifting winds moved wildfires away from oil-sands facilities in Canada's Alberta region, easing speculation that production cuts would make a substantial dent in U.S. stockpiles. The dollar rose a fifth day, while the Brazilian real weakened after the push to oust President Dilma Rousseff hit a glitch. Filipino assets dropped after an anti-establishment candidate claimed victory in the presidential vote.

Stocks around the world have lost momentum over the past two weeks amid simmering pessimism over the pace of global growth and lackluster corporate earnings. Chinese trade data released over the weekend showed exports fell in April, while imports dropped for the 18th month in a row. At the same time, weaker-than-expected American jobs figures from Friday fueled bets over continued central-bank support as traders speculated the Federal Reserve will employ a slower pace of policy tightening.
"It's risk on after people had been too negative, and the unemployment numbers on Friday were not as bad as people had anticipated," Andrew Brenner, head of international fixed income at National Alliance Capital Markets in New York, said by phone. "Commodities got a little bit extended over the last couple of weeks. Sentiment is so negative that the best you're going to get is neutral."
Stocks
The MSCI All-Country World Index fell 0.1 percent as of at 4:15 p.m. New York time, as the Dow Jones Industrial Average slipped 0.2 percent. Meanwhile, the Nasdaq 100 Index climbed 0.3 percent, capping its biggest two-day gain in more than three weeks as Amazon.com Inc., Amgen Inc. and Biogen Inc. all advanced. The Russell 2000 Index of small-cap shares also climbed 0.3 percent.
U.S. investors are awaiting the final batch of earnings reports this season, with the S&P 500 down more than 2 percent from its April 20 peak. Analysts have moderated their predictions for the decline in first-quarter earnings to 7.4 percent, from 9.5 percent at the start of April. Results from Allergan Plc, Walt Disney Co. and Macy's Inc. are due later this week.
Specialty-pharmaceuticals maker Allergan jumped 6 percent to halt a four-day slump, as health-care companies rebounded from their worst two weeks in almost three months. Tyson Foods Inc. paced gains with consumer staples shares after the largest U.S. meat producer raised its fiscal full-year profit forecast.
Meanwhile, LendingClub Corp. tumbled 35 percent after saying Chief Executive Officer Renaud Laplanche resigned, following an internal review of sales of $22 million in loans to a single investor.
The Stoxx Europe 600 Index advanced 0.5 percent, as the DAX Index rallied after Germany reported a bigger increase in March factory orders than economists forecast.
The Shanghai Composite Index dropped 2.8 percent to its lowest close since March 11, while the Hang Seng China Enterprises Index of mainland companies listed in Hong Kong slipped 0.3 percent.
The Borsa Istanbul 100 Index advanced 0.9 percent, rebounding from a two-month low after S&P Global Ratings raised the outlook on Turkey's credit rating to stable from negative, citing the economy's resilience.
Futures on Asian equity indexes outside of Japan foreshadowed losses, with contracts on Australia's S&P/ASX 200 Index down at least 0.2 percent with those on the Kospi index in Seoul. Nikkei 225 Stock Average futures climbed 0.4 percent in Osaka and gained 1.2 percent to 16,275 in Chicago trading.
Commodities
West Texas Intermediate crude oil dropped 2.7 percent to $43.44 a barrel after earlier climbing as much as 2.9 percent, while Brent fell to $43.63. 
Fires in Canada have led to cuts equivalent to about 40 percent of oil-sands production, based on IHS Energy estimates. The impact may be muted due to U.S. crude stockpiles holding at the highest level since 1929. Once fires in Alberta are under control, the majority of oil sands mining projects can be back to normal production levels in about one week, Morgan Stanley said.
Crude also fell after Saudi Arabia, the world's largest crude exporter, replaced its oil minister Ali al-Naimi over the weekend with the chairman of state energy company Saudi Arabian Oil Co. Khalid Al-Falih. Speaking in January at the World Economic Forum in Davos, Al-Falih indicated that Saudi Arabia plans to act vigorously to defend its market share and exports as the market re-balances.
Iron ore plummeted in Asia after port stockpiles in China expanded to the highest level in more than a year following moves by local authorities to quell speculation in raw-materials futures. The SGX AsiaClear contract for June settlement tumbled 8.2 percent to $51 a metric ton, retreating alongside contracts for steel and coking coal.
Copper led losses among industrial metals, extending its worst weekly slide since November, after China slashed purchases from a record high. The metal fell 2.6 percent in London, touching its lowest point in almost a month. Nickel, aluminum and zinc dropped more than 2 percent.
Currencies
The Bloomberg Dollar Spot Index, which tracks the greenback against 10 major peers, rose 0.6 percent, climbing for a fifth straight day. Fed Bank of New York President William Dudley said in a New York Times interview that it remained a "reasonable expectation" that the central bank would raise benchmark rates two times this year.
The U.S. currency appreciated against its commodity-linked peers, with declines led by the South African rand.
The real weakened 0.4 percent versus the dollar, after earlier tumbling as much as 4.8 percent. Brazil's interim lower house chief called for a new vote on Rousseff's impeachment -- a surprise move that also prompted a selloff in the Ibovespa. The Senate was due to vote later this week whether to put Rousseff on trial and temporarily force her to step down on charges of illegally financing the budget deficit.
The yen weakened 1.1 percent versus the greenback, paring this year's advance to 11 percent. Japanese Finance Minister Taro Aso said Monday that sudden exchange-rate moves aren't desirable and the government has the means to intervene.
One-month non-deliverable forwards on the Philippines peso slipped 0.4 percent, while a U.S. exchange-traded fund tracking the country's stocks dropped 2.2 percent, after Rodrigo Duterte -- a Filipino mayor who has tapped into middle-class frustrations about rising crime and inefficient public services in the Southeast Asian nation -- emerged victorious in the presidential election.
Bonds
Dollar-denominated debt from the Philippines due in 2041 advanced, sending yields down three basis points, or 0.03 percentage point, to 3.30 percent. Voters embraced Duterte's tough-guy approach to reducing traffic jams in the capital, Manila, and curbing crime. His support didn't falter through a campaign that saw Duterte make light of a rape incident, deny accusations of undeclared wealth and back the extra-judicial killing of criminals.
Elsewhere in the bond market, yields on U.S. Treasuries due in a decade fell three basis points to 1.75 percent. Bill Gross, the former manager of the world's biggest debt fund, said Fed policy makers may act on policy as soon as their next meeting in June.
Meanwhile, euro-area finance ministers said Greece can reach a deal with its international creditors this month that would allow for the release of more bailout loans. That occurred even as a disagreement persisted with the International Monetary Fund over the nation's economic projections.
Greek bonds rose after the nation's government managed to push through parliament a set of pension and income-tax reforms early Monday with a majority of 153 votes in Greece's 300-seat chamber. Yields on Greece's 3.375 percent note due July 2017 dropped 4.2 basis points to 9.6 percent. 
Borrowing costs for investment-grade issuers have fallen to about 1 percent, the lowest level in the year, based on Bank of America Merrill Lynch index data, as the European Central Bank prepares to start purchasing corporate debt next month under its expanded bond-buying program.
Corporate bond sales in euros may be "unusually busy" this week after some companies held off on offerings due to earnings blackouts and national holidays, according to Deutsche Bank AG. Companies marketing notes on Monday include Airbus Group SE, AstraZeneca Plc and Royal Dutch Shell Plc, according to people familiar with the offers.
Before it's here, it's on the Bloomberg Terminal.
LEARN MORE