Investors Lose Faith in Oil Rally Before Canada Fires Cut Output
by
Alberta oil-sands production down by about 40% as blaze rages

Money managers reduce long positions by most since February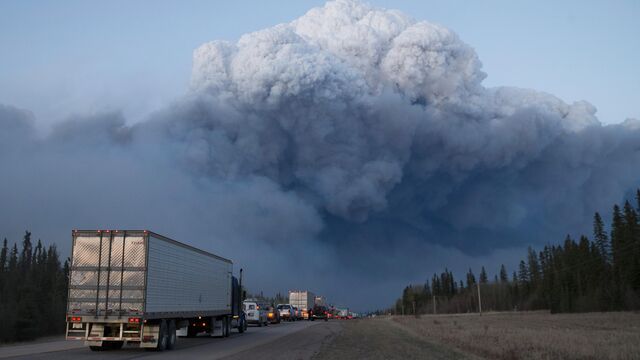 Speculators were losing faith in oil's rally before wildfires spread across Canada's oil-sands region, forcing the evacuation of more than 80,000 people and curtailing production.
West Texas Intermediate crude sank early last week as Iraqi exports approached a record and OPEC production grew to more than 33 million barrels a day. Late in the week, the worst wildfires in the history of Canada's Alberta province -- engulfing an area larger than New York City -- helped to drive up WTI again.

"The impact of the Canadian fires is unclear at this point," said Thomas Finlon, director of Energy Analytics Group LLC in Wellington, Florida. If flows into TransCanada Corp.'s Keystone pipeline are down, "that could certainly put a lid on growth in inventories at Cushing," the main U.S. oil-storage hub in Oklahoma, he said.
Speculators decreased their long positions in WTI, the U.S. benchmark price, by 3.8 percent for the week ended May 3, the most since February, according to data from the Commodity Futures Trading Commission.
WTI futures declined by 0.9 percent to $43.65 a barrel on the New York Mercantile Exchange during the CFTC report week. Prices were down 1.8 percent at $43.86 on Monday as of 11:13 a.m. New York time.
Alberta Wildfire
Wildfires around Fort McMurray in northeastern Alberta have forced companies including Suncor Energy Inc. and Royal Dutch Shell Plc to curb production. The blaze has knocked out about 1 million barrels a day -- or 40 percent of the region's daily output -- according to IHS Energy estimates. It may move away from the main oil-sands facilities north of the town as a forecast cold front passes through the area, bringing light rain.
Suncor, Phillips 66 and Statoil ASA have declared force majeure -- a provision protecting companies from liability for contracts that go unfulfilled for reasons beyond their control -- on supplies from the region.
Saudi Arabia, the world's largest crude exporter, replaced its oil minister over the weekend with the chairman of state energy company Saudi Arabian Oil Co. Khalid Al-Falih will probably keep the country pumping crude at near-record levels, sticking with his predecessor Ali al-Naimi's policy of defending market share against higher-cost shale.
U.S. Output
At the same time, U.S. production continues to plummet, falling the most since August as oil explorers idle more drilling rigs, Energy Information Administration and Baker Hughes Inc. data show. Still, U.S. inventories have increased to the highest since 1929. The supply gains are expected to reverse as refiners churn out more gasoline for peak U.S. driving season, which kicks off in late May.
"We're pretty much done with the inventory-build season," William O'Grady, executive vice president of St. Louis-based Confluence Investment Management LLC, said in a phone interview. "Within a week or two, we'll start to see pretty steady declines in crude-oil stockpiles." 
In other markets, net bullish bets on Nymex gasoline fell 9.2 percent to 23,586 contracts as prices slipped 3.6 percent. Speculators flipped to a net-long position in ultra low sulfur diesel fuel for the first time since July 2014, adding 4,379 contracts as prices were little changed.
Money managers' long positions in WTI futures and options fell by 11,441 contracts of futures and options to 300,597 during the CFTC report week. Short positions, or bets on falling prices, increased 1.4 percent to 63,808.
"We think the lows are in," O'Grady said. "We've still got a chance maybe to drift toward $40 before the next leg of the rally begins."
Before it's here, it's on the Bloomberg Terminal.
LEARN MORE