Philippines Extends Voting Amid Technical Glitches, Violence
by and
Ten people killed Monday in election-related violence

Dozens of voting machines malfunctioned, polling time extended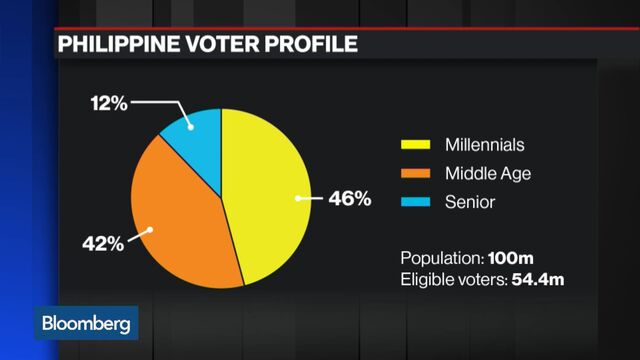 Millions of Filipinos braved the heat and queued for hours to vote in a presidential election marred by deadly violence and technical glitches after a divisive campaign that has made Rodrigo Duterte, the populist mayor from the south, the man to beat.
At least 10 people were killed in poll-related violence on Monday, according to the military, while dozens of malfunctioning machines delayed voting. The Commission on Elections will extend voting by an hour to 6 p.m. in areas that experienced delays, Chairman Andres Bautista said. One hundred fifty voting machines were replaced as of 2 p.m. compared with 1,300 that malfunctioned in 2013, election body Commissioner Rowena Guanzon said on her Twitter account.
Duterte, who held an 11-point lead over his closest rivals in the last of the pre-election opinion polls, said he was so far satisfied with the conduct of the elections and his camp had not received reports of massive irregularities or violence. The tough-taking mayor maintained support through a campaign that saw him make light of a rape incident, deny accusations of undeclared wealth, back extra-judicial killing of criminals, and admit to being involved in shootouts that left at least three suspected kidnappers dead.
His main rivals are Mar Roxas, a former government minister endorsed by outgoing President Benigno Aquino, and Senator Grace Poe, the daughter of a famous actor.
"Past days have been virulent, I'd like to reach my hand to my opponents," Duterte said in a briefing in Davao City after voting. "Let's begin healing now."
QuickTake QuickTake: Philippines Path
Duterte, 71, managed to tap the dissatisfaction of millions of Filipinos who feel they haven't benefited from the economic gains delivered by Aquino, while Roxas and Poe "underestimated the level of discontent," said Dindo Manhit, managing director of Stratbase, a consultancy group in Manila. "Duterte was able to build a campaign narrative from a very local issue like crime and drugs into a symbol of government failure."
The commission expects turnout this year to exceed the 75 percent recorded in 2010. There are 54.4 million registered voters, with 45 percent of those in the 18 to 34 age bracket.
Before it's here, it's on the Bloomberg Terminal.
LEARN MORE