Cameron Evokes War, Churchill Memory in Bid to Avoid Brexit
by
Britain has a `fundamental national interest' in EU: Cameron

Brexit backer Gove says U.K. must be `outside single market'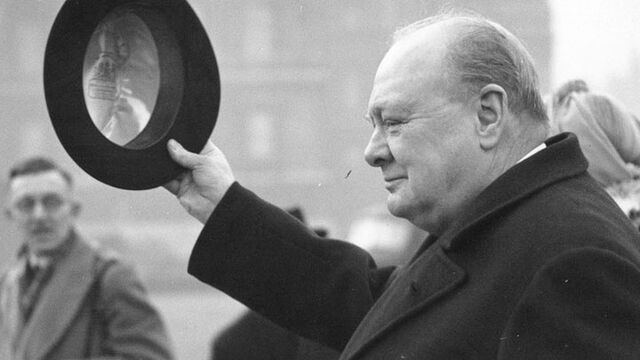 Prime Minister David Cameron made a patriotic appeal to Britons not to vote to leave the European Union next month by evoking the memories of wartime leader Winston Churchill.
"The European Union has helped reconcile countries which were at each others' throats for decades," Cameron said in a speech at the British Museum in central London on Monday. "Britain has a fundamental national interest in maintaining common purpose in Europe to avoid future conflict between European countries. And that requires British leadership, and for Britain to remain a member."

With local council and regional elections out of the way, Cameron's warring Conservative Party is now turning its attention to the June 23 referendum on whether to stay in the EU. Cameron's address speaks to the core message of the Remain campaign that Britain is "stronger, safer and better off" within it.
"The serried rows of white headstones in lovingly tended Commonwealth war cemeteries stand as silent testament to the price that this country has paid to help restore peace and order in Europe," Cameron said. "Can we be so sure that peace and stability on our continent are assured beyond any shadow of doubt?"
With polls indicating the vote may be finely balanced, the respective campaigns are rolling out their biggest names. Boris Johnson, whose eight years as London mayor came to an end after Thursday's election, is set to make an intervention about the "liberal" case for leaving the 28-nation bloc.

A YouGov poll for ITV television's "Good Morning Britain" program, to be broadcast Monday, found 42 percent of Britons plan to vote to remain in the EU, with 40 percent opting to leave. The online survey of 3,378 people was conducted May 4-6. A separate survey by the Institute of Directors found business leaders are in favor of staying in the EU by more than two to one.
On Sunday, it was the turn of Chancellor of the Exchequer George Osborne and the pro-Brexit Justice Secretary Michael Gove to spar. The Leave campaign argues that by exiting the EU, Britain will regain control over immigration and recover 350 million pounds ($500 million) a week that currently goes toward the EU budget.
"If we vote Leave, we can control how that money is spent," Gove told the BBC's "Andrew Marr Show." He also said Britain should leave the single market that allows the freedom of movement of goods, services and people within the EU's 28 member states as well as Switzerland, Norway, Iceland and Liechtenstein.
'Catastrophic' Step
That would be "catastrophic for peoples' jobs and their incomes and their livelihoods," Osborne said later on ITV television's "Peston on Sunday" program. "Some people might think that wrecking the economy is a price worth paying. I absolutely reject that."
Osborne also flagged an "emerging" analysis from the Treasury about the damage a Brexit may do to the U.K. housing market. "It's already clear from the Treasury analysis that, for example, there would be a significant shock to the housing market that would hit the value of people's homes, that would hit the cost of mortgages," he said.
The prime minister spoke a day after the 71st anniversary of Victory in Europe, or VE Day, when Britain and its allies accepted the surrender of Nazi Germany. To reinforce the patriotic case for staying in Europe, the Britain Stronger in Europe campaign published a video showing four World War II veterans warning that nation risks forsaking the security they fought for if it votes to leave.
'Only Solution'
"If we are not in that union then countries will fall apart," said Patrick Churchill, a former Royal Marine commando who fought at D-Day in 1944. "The only solution is to bind together, hold together, there we find strength."
While Conservative Winston Churchill's Britain in 1940 "stood as a bulwark against a new dark age of tyranny and oppression," he hadn't wanted to be alone, Cameron said. He had tried to keep France in the war against Nazi Germany, and then spent 18 months persuading the U.S. to join the conflict. That spirit of cooperation continued after the war.
"In the postwar period he argued passionately for Western Europe to come together, to promote free trade, and to build institutions which would endure so that our continent would never again see such bloodshed," Cameron said of Churchill. "Isolationism has never served this country well. Whenever we turn our back on Europe, sooner or later we come to regret it."
Cameron's Future
Cameron agreed to hold the referendum in part to pacify lawmakers within his Conservative party. It has exposed divisions among the Tories, with Gove among a handful of cabinet ministers campaigning in opposition to the leader.
The referendum debate has raised speculation in the U.K. media that a "leave" vote or a narrow win for "remain" may lead to Cameron's ouster as Tory leader and prime minister. Asked about his own ambitions, Osborne said he didn't expect a leadership election until "the end of this decade." That's in line with Cameron's already-stated plan not to stand for a third term of office at the next general election in 2020.
"Britain has a fundamental national interest in maintaining common purpose in Europe to avoid future conflict between European countries," Cameron said. "And that requires British leadership, and for Britain to remain a member."
Watch next: Brexit and the Markets: Assessing Monetary Policy Impact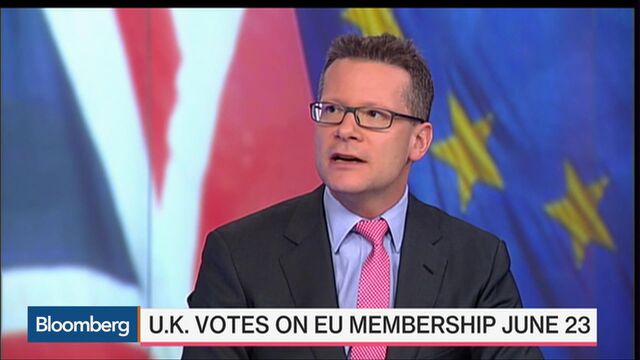 Before it's here, it's on the Bloomberg Terminal.
LEARN MORE