Banker Fights Unionist for Top Job as Aussie Election Called
by
Turnbull's coalition faces Shorten's Labor in July 2 vote

Tax cuts, housing to be key voter issues in lengthy campaign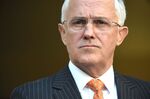 Prime Minister Malcolm Turnbull called elections for July 2, seeking to end almost a decade of political instability in Australia and convince voters he's best-placed to steer the economy through a fading mining-investment boom.
Tax cuts for companies and high-income earners and tax breaks for property investors are set to dominate the eight-week campaign, which polls show will be tightly fought. The former investment banker is pledging to create new growth drivers for the world's 12th-largest economy, while grappling with debt that's rising faster than the euro area's.
"Our economic plan for jobs and growth is as clear as it is critical," said Turnbull, who's seeking a mandate from voters seven months after seizing the top post in a Liberal Party leadership coup. "With a clear vision, a clear plan and confidence in Australia and its people, our greatest days surely are ahead of us."
Turnbull, 61, is looking to stamp his authority on the Liberal-National coalition and end the upheaval that's seen Australia churn through six prime ministers in eight years. Standing in his way is union-backed Labor Party leader Bill Shorten, 48, who's portraying the coalition as out of touch with average workers. Both are claiming the mantle of better economic managers.
Tax Pledges
"We need to see a government elected which commits to decent economic reform," said Shane Oliver, head of investment strategy at Sydney-based AMP Capital Investors Ltd., which oversees about $120 billion. "This election is critical because we've got to a make-or-break point in Australia."
Turnbull is promising to cut tax rates for companies and high-income earners, and boost infrastructure spending. Shorten says he would end tax perks for landlords that have contributed to house prices in Sydney and Melbourne soaring out of reach for poorer Australians. The former union leader is also promising a royal commission into the finance industry after trust in the sector was eroded by poor financial advice offered by banks.
While pledging spending on health and education, Shorten says he's identified A$71 billion ($52 billion) in potential budget savings and would do a better job of reining in a deficit that's forecast to reach A$37.1 billion in the 12 months through June 2017.

Polls show the election may be close. A Newspoll published in the Australian on Monday gives Labor a 51 percent to 49 percent lead over the coalition on a two-party preferred basis, while a Fairfax/Ipsos poll gives the government a 2 percentage point lead.
Still, the opposition has a mountain to climb to win the election. The coalition currently has 90 seats in the 150-member lower house, to Labor's 55, and betting odds show the government is the clear favorite. A winning A$1 bet on the coalition would return A$1.33, while the opposition would give A$3.25, according to bookmaker Sportsbet.
The election is the first so-called double dissolution ballot since 1987, meaning all 76 seats in the Senate will also be up for grabs. In a normal election, half the upper-house seats from each state are contested.
Turnbull claimed a constitutional trigger to call the election when the Senate twice blocked legislation to revive a watchdog for the building industry -- which the coalition says is plagued by militant unions. Industrial relations will also be a major issue in the election, with the coalition saying Labor is beholden to its union backers and Shorten arguing the government is against workers' rights.
Both Shorten and Turnbull are fighting their first election campaigns as party leaders and will be seeking to cement their authority.

Labor's last stint in office, from 2007 to 2013, was tumultuous as the leadership switched from Kevin Rudd to his deputy Julia Gillard and back again. Shorten was seen as a kingmaker in the chaos, flipping his allegiance between Rudd and Gillard before becoming party leader after Labor lost the 2013 election.
"Labor has learned its lessons" from that era, Shorten told reporters on Sunday. "We understand that a party that can't govern itself can't govern the nation."
The government has also been gripped by infighting, which saw Turnbull oust Tony Abbott in a party ballot in September amid plunging coalition poll ratings. Turnbull will need a decisive win to shore up his authority over Abbott loyalists and give him a chance to pursue his own more socially progressive agenda. He supports gay marriage, previously advocated carbon pricing to tackle climate change and is an ardent republican.
"Turnbull has made a reasonable fist of turning around the government's performance which went backwards under Abbott, so the outcome is likely a narrow win for the coalition," said Martin O'Shannessy, a partner at OmniPoll with two decades of polling experience. "That's providing the government doesn't make any major mistakes, which is always possible in a long campaign."
Before it's here, it's on the Bloomberg Terminal.
LEARN MORE