Albertans Who Fled Wildfire Get Help From Afar After Losing All
by
Burger-flipping boilermakers feed the hungry along the convoy

Ford 2014 Mustang GT intact as home burned to cinders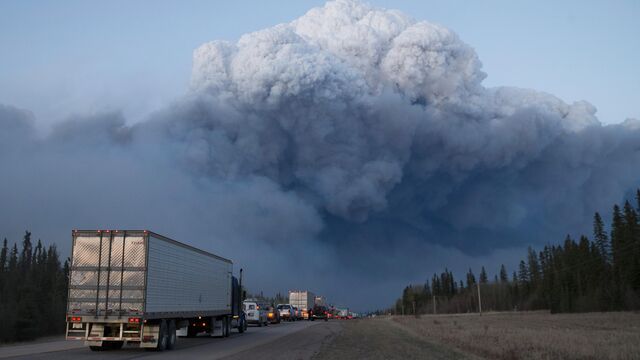 Canada's oil-sands boom and the prosperity it offered made Fort McMurray a melting pot of cultures from all over the world. Now, the world is stepping up with donations from as far away as China to help evacuees who fled the inferno that decimated entire neighborhoods.
Many of the more than 80,000 who fled the wildfire that's still raging near Fort McMurray in northern Alberta escaped with only the clothes on their backs and need the basics including shelter, clothing and food as they face the grim reality of starting over from scratch.

"We're worldwide right now," Nicole Geoffrey, a spokeswoman for the Edmonton Emergency Relief Services Society, said at their main location in Alberta's capital city on Saturday. Fort McMurray residents who headed south, away from the fire, have been visiting to pick out items including clothes, bedding and laundry detergent. Truckloads of supplies were arriving outside. "We have donations coming in from China, England, Newfoundland, for the fire specifically."
Nicknamed "the beast" by the regional fire chief, the fire has spread and was forecast to expand to more than 2,500 square kilometers (965 square miles) in the next few days. Evacuees fled south to communities along the main highway out of Fort McMurray including Edmonton and some escaped north to oil-sands camps before they were escorted out as the fire shifted its path.
Debit Cards
The outpouring of support for Fort McMurray from all corners of the world during the crisis is understandable given that 150 nationalities are represented in the region, Mayor Melissa Blake has said.
The Alberta government plans to issue emergency financial assistance of C$1,250 per adult ($965) and C$500 per child to those who have been displaced, likely in the form of pre-loaded debit cards, details of which will be announced Wednesday. Albertans and people as far away as Canada's Atlantic Coast and Terry, Montana are posting offers to help to the group YMM Helps, a website and Facebook page, said Emma May, the founder.
Brad Thistle, 37, his wife and dog have been staying at a campground in their trailer in Plamondon, Alberta, about a two-hour drive south of Fort McMurray, and stopping into evacuation centers set up by volunteers for meals and companionship, he said. They lost their home and treasured keepsakes including his deceased mother-in-law's engagement ring in the fire, though remarkably their Ford 2014 Mustang GT parked outside the house survived, according to a photo taken by an emergency responder that was sent to him.
"I have a very large list of thank yous to deliver when this is all said and
done," Thistle said.
Feeding Evacuees
When officials opened up Highway 63 to escort convoys of people southbound last week, good Samaritans went up and down the roads with provisions. Brent Latam, 35, and Dustin Masson, 31, two boilermakers who work in Fort McMurray, were flipping burgers and hot dogs for evacuees, filling up fuel tanks and handing out bottles of water and fresh baby diapers.

"It's a long trip down that highway," Masson said, standing in a turnout on the side of Highway 55 in Grassland, Alberta. "We're just doing whatever we can. It's better than sitting on the couch."
Evacuees Stefany and Crithian Garces and their children Anthony and Emily, who were collecting a few outfits and toiletries on Saturday at the Edmonton Emergency Relief Services Society, said the help has been overwhelming. Stefany is from Venezuela and Crithian grew up in Colombia.
"Strangers we've never met before have opened their houses to us," Crithian said.
Before it's here, it's on the Bloomberg Terminal.
LEARN MORE