Philippine Candidates Make Final Push in Divisive Election
By and
Thousands drawn to last rallies before May 9 presidential vote

Davao mayor Rodrigo Duterte leads in recent opinion polls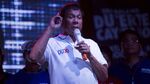 Philippine presidential candidates made a final push for votes in rallies on Saturday that drew thousands of supporters two days before the tightly contested election.
All five contenders held their final rallies in and near the capital, Manila. By 7 p.m. local time, police said about 300,000 supporters of front-runner Rodrigo Duterte, the firebrand mayor of Davao city, had gathered at Luneta Park, where Pope Francis delivered his Mass last year.
A recent opinion poll from Social Weather Stations puts Duterte, 71, in the lead with 33 percent of the votes in Philippines' first-past-the-post system. He is ahead of Senator Grace Poe with 22 percent and Mar Roxas, a former interior secretary endorsed by outgoing President Benigno Aquino, with 20 percent.
Duterte's tough talk, including calling for the extra-judicial killing of criminals, has been criticized by human rights groups, but his populist rhetoric to combat crime and deal with infrastructure backlogs has won him support among Filipinos.
"If I make it to the presidency, I'll do what I did in Davao," Duterte told cheering supporters in red t-shirts and waving the national flag. "Drug addicts, get out, if you won't, I'll kill you." He added that he will "not hesitate to use the military and police to go after the drug lords, the criminals, kidnappers, and rogue policemen.''
United Front
Duterte pledged to pursue a peace deal in Mindanao, the southern island that is his home region and where the military has clashed with militants. He said he would prioritize spending on education and health, and build dams for farmers in the countryside.
Aquino made a last-ditch effort this week to get rival candidates, Roxas and Poe, to agree on a united front to prevent Duterte from winning. Roxas said on Saturday he'll continue with his campaign after failing to convince Poe to combine forces against Duterte.
Stocks fell, the peso weakened and default risk jumped this week amid uncertainty about the election outcome and concern that the economic gains achieved under Aquino may not be sustained.
"Fears might be at this stage over-dramatized," Hans Sicat, president and chief executive officer of the Philippine Stock Exchange, told reporters in Manila after the bourse's annual meeting on Saturday. "The candidates are all competent as all are middle-of-the-road economics guys. This gives us some comfort that we won't have wild swings of economic policy."
Roxas told about 150,000 supporters at his rally not to forget that the economic gains secured so far have allowed Philippines to shake off the label of "sick man of Asia."
"Our rivals, they want us to forget our success," he said. "They will destroy what we have worked hard in the past six years. But we won't allow them."