Weight Watchers CEO Says He Expects Oprah Winfrey to Expand Role
by
Company looks to maintain rally with new weight-loss approach

Winfrey tested out the program before buying stake in October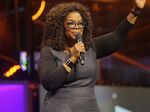 Weight Watchers International Inc., whose high-profile partnership with Oprah Winfrey has boosted the stock and attracted new members, expects to reap years of benefits as she expands her role, Chief Executive Officer Jim Chambers said.
The company is looking at ways it can do more with Winfrey, who also joined the board, Chambers said in an interview at Bloomberg's New York headquarters. It's also working to maintain momentum with a new weight-loss program called "Beyond the Scale," which puts less emphasis on strict calorie counting.
"Her collaboration is going to be incredible for this company in the future," he said, without getting specific about the plans. "She's committed. She sees this as the way she's living her life and her relationship with food. That points to the future in a very powerful way."
Weight Watchers announced its deal with Winfrey in October, when she bought a 10 percent stake in the company and received options for another 5 percent. The company's stock, which had been hammered by years of losing subscribers, more than doubled in a single day. The shares have fluctuated since then, but they remain up about 90 percent through the close of trading Thursday.
Member Growth
The New York-based company reported earlier this week that its subscriber rolls climbed 5 percent globally in the first quarter, the first time in four years that the key benchmark was positive. Weight Watchers still lost 17 cents a share in the period, though that number was better than what analysts were expecting.
Winfrey is committed to endorsing Weight Watchers products at least through 2017. That includes the upcoming winter season, when the weight-loss program makes its annual New Year's resolution marketing blitz.
Weight Watchers still faces an uphill battle. Its program was hit hard by the rise of fitness apps and other weight-loss technologies, contributing to three years of declining sales. The company has billions in debt, and its stock is heavily shorted by investors.
Chambers, who took over in 2013, has worked to turn around the company by rejiggering its nutrition program and adding a social-networking component to its app. The idea was to adapt to a shift among dieters toward healthy eating, rather than calorie counting.
'Beyond the Scale'
The company reached out to Winfrey, 62, in July and had her test the Beyond the Scale program before it was public. Winfrey was interested in a role that went beyond being a paid spokeswoman and agreed to buy a stake in the company.
Since the deal was announced in October, she has appeared in advertisements and posted on social media about losing 26 pounds (12 kilograms) with Weight Watchers, even while eating bread daily. She also showed up at a New York members' meeting in a video that was posted to Facebook.
Winfrey has gone through high-profile weight fluctuations over the years, but Chambers wasn't concerned that she might add pounds back -- something that could cause all the new attention to backfire.
"I'm not focused on the risks," he said. "I'm focused on what she brings to the company."
Before it's here, it's on the Bloomberg Terminal.
LEARN MORE