U.S. Stocks Advance as Jobs Data Reins in Fed Rate Hike Bets
by
Payrolls rose by 160,000 in April, missing 200,000 estimate

S&P 500 posts first back-to-back weekly retreat since February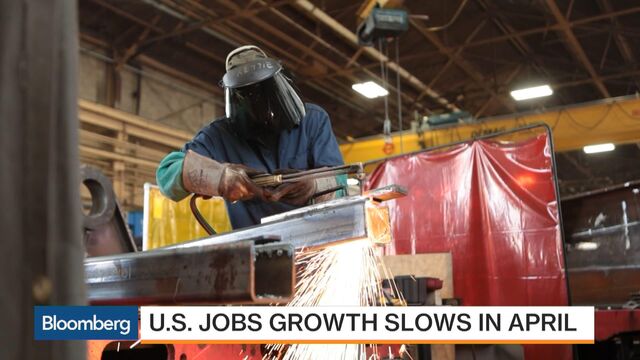 U.S. stocks advanced to halt a three-day drop, after the smallest jobs gain in seven months fueled speculation the Federal Reserve will look to raise interest rates gradually.
The S&P 500 added 0.3 percent to 2,057.14 at 4 p.m. in New York, after falling as much as 0.6 percent. The Dow Jones Industrial Average added 79.92 points to 17,740.63. The S&P 500, which posted its first back-to-back weekly drop since February, climbed higher in afternoon trading after dipping briefly below its 50-day moving average of 2,045.06.

The Labor Department report today showed American employers added 160,000 workers in April, trailing the 200,000 jobs economists estimated and lower than the revised 208,000 gain in March. The jobless rate, projected to ease, stayed at 5 percent, while wage growth accelerated. 
The data adds to speculation the Fed will stick with a slower pace in tightening monetary policy. While traders were pricing in a 10 percent chance of higher borrowing costs next month before the jobs report, the odds fell to just 2 percent after. February 2017 is now the first month with an even probability of an increase.
"The first reaction by the market is people are taking June off the table," said John Canally, chief economic strategist at LPL Financial in Boston, which oversees about $460 billion. "This report wasn't a disaster. It wasn't booming, but it wasn't awful either. The focus now turns to China with the data coming out over the weekend and next week. The global growth story will either be confirmed or denied."
The S&P 500 has retreated 2.2 percent since its high on April 20, halting a rebound that lifted it as much as 15 percent from a February low. Concerns over lackluster corporate earnings and signs of tepid economic growth have provided little incentive for further gains in risky assets.
"The number this morning was not a good number, coming in well below expectations -- but on the other side of it, there's the question of what it means for policy," said Kevin Caron, a Florham Park, New Jersey-based market strategist and portfolio manager who helps oversee $180 billion at Stifel Nicolaus & Co. "There's a push and pull between the real economy and the stimulus response to these changes, and those two things tend to negate one another."
Investors are also watching the tail end of the earnings season, with more than 85 percent of S&P 500 companies having already announced. While about 76 percent of the firms that have reported so far beat profit forecasts and 54 percent exceeded sales expectations, analysts are still projecting a 7.4 percent decline in first-quarter earnings.
Activision Blizzard Inc. jumped 8.5 percent after posting first quarter earnings and sales that topped estimates and boosting its outlook for 2016. Herbalife Ltd. surged 9.1 percent after saying it's in late-stage talks to resolve a Federal Trade Commission probe into whether the nutrition company is a pyramid scheme.
Carmakers and raw-material producers advanced, after Morgan Stanley boosted its recommendation on General Motors Co. and a weaker dollar fueled gains in metals prices, sending shares of Freeport-McMoran Inc. higher.
Last year's momentum stocks added the most to today's gains, with Amazon.com Inc., Facebook Inc. and Google's Alphabet Inc. all advancing. Meanwhile, Apple Inc. fell to its lowest level since June 2014.
Health-care shares slumped, with Endo International Plc slumping as much as 42 percent after the drugmaker cut its full-year earnings forecast to well below analysts' predictions in the face of increasing competition.
Square Inc. plunged 22 percent on concerns about financing for its small-business customer-loan program. GoPro Inc. slid 2.3 percent after saying it sees "modest" growth in the second quarter. Valeant Pharmaceuticals International Inc. dropped 13 percent after saying it's creating a committee to oversee drug pricing as the company seeks to rest its strategy.
Before it's here, it's on the Bloomberg Terminal.
LEARN MORE