Toshiba Appoints New President to Helm Post-Scandal Overhaul
By
Current president Muromachi to remain as special adviser

Senior vice president Shigenori Shiga to be chairman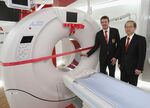 Toshiba Corp. named Satoshi Tsunakawa to be its next president as the troubled electronics conglomerate promotes from within after an accounting scandal.
Tsunakawa, currently a senior vice president, will replace Masashi Muromachi, who is staying on as a special adviser, the Tokyo-based company said Friday. Shigenori Shiga has been named as the next chairman. The appointments are subject to shareholder approval at a meeting scheduled for late June.

Toshiba's new helmsman acknowledged the energy-to-electronics conglomerate's problems Friday and pledged to narrow the sprawling company's focus.
"Improving our financial status is a big problem. We've chosen three areas to focus on: energy, infrastructure and storage. We would like to show steady growth in those areas," Tsunakawa told reporters.
Toshiba has been plagued by record losses and executive resignations after unveiling years of padded profits at the conglomerate, which makes everything from computers to nuclear power equipment. The company is narrowing its businesses, selling its medical unit to Canon Inc. and home-appliance business to China's Midea Group Co. as it also considers letting go of PCs.
Toshiba's personal computer business is in a position to make a profit independently after scaling back production and targeting enterprise clients, Tsunakawa said. But the company is keeping its options for the division open.
"So we're now improving the PC business by ourselves, but all possibilities still remain on the table and we're also considering partnerships at the same time," he said.
Muromachi took over as president temporarily in July after three of his predecessors stepped down amid the accounting scandal.