Food & Drinks
SPEND: A Delicious Small-Batch Soju Made the Old-Fashioned Way
An American is making the rice liquor according to centuries of Korean tradition.
By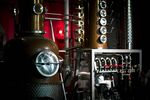 So maybe the last time you sipped soju was for courage, moments before your solo performance of Wrecking Ball in a private karaoke room. If that's the case, you were most likely drinking a harsh, sweet, mass-produced version of soju, which happens to be one of the bestselling liquors in the world. 
Korea's high-end stuff isn't made from sweet potatoes like that. Instead, it's made in the traditional way, with a mash of rice, water, and wild yeast. It's scarcely exported and can be a challenge to find in the U.S., which is why soju fan Bran Hill, formerly the head distiller for Van Brunt Stillhouse, decided to start making his own.

After studying Korean fermentation techniques in Seoul, Hill returned home and took a detour from his usual work on whisky and rum. He cultivated his own wild yeasts and hunted down sticky rice growers in California.
Hill made soju and makgeolli (a milky, barely fizzy alcoholic drink), refining the technique each time until he was ready to launch Tokki this February. The first batch is now available at about a dozen liquor stores, including Dry Dock Wine & Spirits in Red Hook, in Brooklyn, N.Y., where I found a bottle for $28 the other day. 
Hill suggests sipping it at room temperature or with just a slight chill, which is how I had it at home. The spirit looked clear, but then again not quite, and it smelled complicated and earthy, with a sweet, mellow fruitiness (Hill doesn't chill filter). It went down easy, with an almost creamy texture, but I tried not to guzzle—Tokki's delicious, but it also has a 23 percent ABV.
You can taste it at restaurants, too, including Oiji in Manhattan and Insa, a new Korean restaurant in Brooklyn's Gowanus neighborhood. And if you're in the mood to rent a private karaoke room afterward and belt your heart out, you can do that at Insa, too.
Before it's here, it's on the Bloomberg Terminal.
LEARN MORE