Spend
SPEND: A $150 Refillable Candle in Limoges Porcelain
Encased in brushed porcelain, each one has a subtle, bespoke scent.
By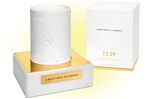 Studies show that our strongest, earliest memories are linked to scent.
That's why you'll never forget the fragrance of your favorite person—or hotel.
These candles from 12.29 ($150) are concocted by Dawn and Samantha Goldworm, American sisters who started the company in 2009 as a consulting firm to fashion houses and artists (Opening Ceremony, Prabal Gurung, and Zac Posen, among others).The blonde twins also gained notoriety in the fashion world as the geniuses behind a flame-tinged scent that permeated the room during Rodarte's Fall/Winter 2011 show; in the fashion world, people still talk about that night.

Dawn had long worked as a "nose" for Coty, helping the fragrance giant make new scents; Samantha had led marketing for American Express. The name 12.29 comes from their birth date (December 29), which is also their brother's birthday, as well as the day their parents married.
Each candle comes wrapped in a Limoges bisque porcelain jar that is just subtle enough to work as a gift for men or women—a notoriously tricky line to balance. (Try the limited-edition, blacked out "A Dark Affair" for the most masculine.)
Each name in the series—"This Feels Dangerous," "A Beautiful Sacrifice," "A Moment of Surrender"—marks a stage of a romantic relationship that Dawn had in Paris. The fragrance notes—smoky white tea; shiso leaves; raw papyrus, and clean wood—come directly from nature. 
Smelling one such as "A Forgotten Memory," which has warm spices, fresh tobacco, sumptuous leather, and earthy wood undertones, is like entering an Old World novel. 
The candles are available at Only Scent Remains for $150.
Before it's here, it's on the Bloomberg Terminal.
LEARN MORE