Spain's Rajoy Should Resign to Help His Party, PP Group Says
by and
Floridablanca calls for open primaries to choose PP leader

Rajoy under pressure because of ties to party graft scandal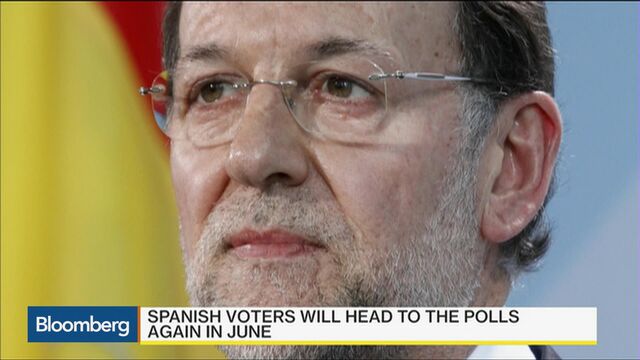 Spain's acting prime minister, Mariano Rajoy, should step aside to allow his bloc to modernize and boost its chances of leading the next government, according to a research group with ties to the party.
Rajoy has become a barrier to new ideas within the governing People's Party and he should give members a chance to vote on its future direction, according to Isabel Benjumea, director of the Floridablanca group in Madrid. Under PP rules, Rajoy should have called a party conference to endorse his position as leader more than a year ago.
"It's not only Mariano Rajoy," Benjumea said in a Bloomberg Television interview. "It's the project he represents."
As Spain heads for its second general election in six months in June, Rajoy is trying to keep a lid on discontent within his party after losing a third of his lawmakers in the last ballot in December. The premier is betting that if he can hang on to first place in the re-run, rival parties will be forced to stand aside and let him form a new government.

The problem is that his alleged ties to a secret PP slush fund have made him politically toxic for potential allies. Socialist leader Pedro Sanchez says he's not fit to govern while the liberals of Ciudadanos say he's not qualified to lead a renewal of Spain's political life. Rajoy denies any wrongdoing.
"Anyone that is going to court because of a corruption case should get out of the party and all of those who had political responsibility for those people should also take responsibility," Benjumea said. "The most important thing is that you have checks and balances within the party."
Before it's here, it's on the Bloomberg Terminal.
LEARN MORE