Seven Things We Learned About Brexit and U.K. From Elections
by
No anti-establishment surge, Corbyn safe, Scotland shifts

(Oh, and one thing we learned about the Liberal Democrats)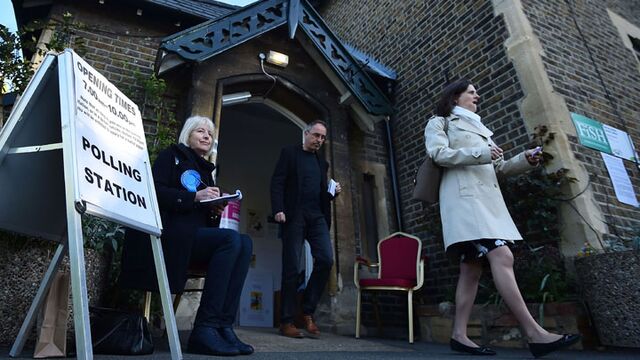 Britain has voted in a hodgepodge of local and regional votes that some even tried to brand "Super Thursday." Virtually all the results are in, and what have we learned?
No Sign of Pro-Brexit Surge
There was no particular reason to expect one: Voters know they get to have their say on European Union membership next month. But a strong vote for the U.K. Independence Party might have foreshadowed a good showing for "Leave." In the event, UKIP's vote share was barely changed from its 13 percent result in the 2015 general election. In the Welsh Assembly, though, that was enough to win seven out of 60 seats, for the insurgent party's best result of the night.
No Anti-Establishment Wave
Much has been made of the idea that an anti-establishment vote might help the opposition Labour Party, now under the traditional socialist leadership of Jeremy Corbyn, to victory. Or such sentiment might indeed sweep Britain out of the EU. There wasn't much sign of it. The Scottish National Party lost its majority in the Parliament in Edinburgh. The Conservatives, now entering their seventh year of austerity government, barely lost any local-council seats in England. And Corbyn became the first opposition leader since 1985 not to gain council seats in an election like this.
London Is a Labour City
The bright spot for Labour was the capital city, where Sadiq Khan won the mayoralty with a record number of votes. After eight years of Conservative dominance under Boris Johnson, London moved back into the Labour column. Tory candidate Zac Goldsmith's attempt to link Khan, a Muslim, to extremism backfired.
But Labour Held On Outside London, Too
It would be overstating things to say, as Labour lawmaker Jon Trickett did, that the results were "fantastic" for the main opposition party. But they were better than many feared. In particular, the party held control of councils in the south of England such as the coastal resort of Hastings where the Tories had hoped to make gains.
Corbyn Will Remain Labour Leader
Labour's implosion in Scotland continued, and the party failed to build the sort of local-council support it would need to win the next general election. Many Labour lawmakers were unhappy at the results and were prepared to say so publicly. But they know they can't get rid of Corbyn unless they can persuade the hundreds of thousands of party activists who elected him that he's a vote loser. This result wasn't bad enough for that.
The Khan Mutiny?
Khan has just become the most powerful Muslim politician in British history. For a bus driver's son, that's a big achievement, and it's a big moment for Britain, too. But he's also become Labour's most powerful politician outside of Wales -- and the mayor's budget is actually bigger than the Welsh government's. Unlike Corbyn, Khan will run things. His pronouncements will be reported. He can employ a staff, including the policy wonks who have fled Labour's headquarters since Corbyn took over. Khan ran away from Corbyn throughout his campaign, which was aggressively pro-business and centrist. Now, in City Hall, he has the opportunity to establish a Labour Party in exile if he chooses.
The Tories Are Back in Scotland
For two decades, one of the oddities of British politics was that Scotland, a country that is stereotypically fiscally and culturally conservative, refused to vote for actual Conservatives. This was largely the legacy of one woman -- Margaret Thatcher -- and it seems to have been undone by another -- Ruth Davidson. Under her leadership, they doubled their seats in the Scottish Parliament, pushing Labour into third place. According to Rob Ford of Manchester University, Scotland now has a new SNP-Tory political alignment: "You've got two parties -- one nationalist, one unionist; one urban, one rural; one working-class, one affluent."
Lib Dems? What Lib Dems?
Confession: Eating lunch, I realized I'd forgotten to mention the Liberal Democrats in my story. This thought was closely followed by the conclusion that it didn't matter. Just over a year ago, they were in government, and their leader was the deputy prime minister. They were in fact the biggest gainers on the night in the English local elections, picking up more than 30 seats. But they're still the eighth point in a seven-point list. Sic transit gloria mundi, as Boris Johnson would say.
Before it's here, it's on the Bloomberg Terminal.
LEARN MORE