President Trump? To Standard Bank, About as Likely as Brexit
And both may be a long shot.
by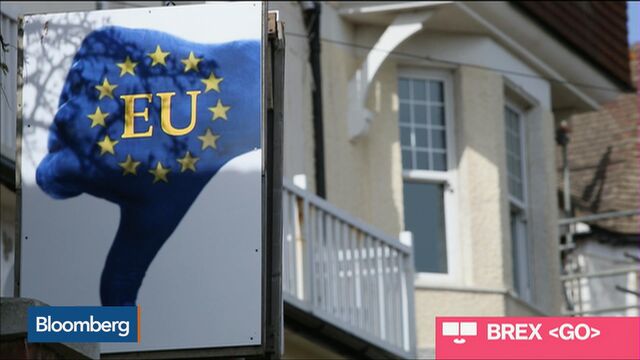 Brexit and a Hillary Clinton failure: two things that would make Donald Trump happy.
They're also equally unlikely, with the probability of either around 20%, according to Standard Bank Head of G-10 Strategy Sean Barrow. He emphasized that it's a subjective call -- which, at a time when professional pollsters have produced a string of high-profile failures, may do little to tarnish its authority.

In contrast with the 5,000-1 odds overturned by English Premier League champions Leicester City, current polling on these events is too conservative, he wrote in a note to clients today. Barrow gives Hillary an "over 80% chance" of victory, compared to 73% shown in bookmakers' odds, while the probability of the U.K. staying in the European Union is the same, he says, even though bookies assign it a two-thirds probability.
Currency markets are already taking into account the possibility of an end to the U.K.'s 43-year membership of the European bloc, but they don't appear to be giving much credibility to the idea of President Trump.
"Putting it all together we'd regard ourselves as more bullish than bearish of sterling/dollar - at least from a political perspective," he wrote.
The pound should rally 5% to 10% if  Britain remains in the EU, versus the 15% to 20% the currency will lose if the nation votes to leave, he said. Should Clinton win, the dollar will strengthen 5% at most, he said.
"We'd be extremely surprised if the U.K. were to leave and hence sterling is a buy just ahead of the referendum, not a sell," according to Barrow.  Trump said Britain would be "better off" outside the EU, although he wasn't making a recommendation on the June 23 referendum.

Before it's here, it's on the Bloomberg Terminal.
LEARN MORE