Power Regulator Sees End to Inflation-Plus S. Africa Increases
by and
Regulator is reviewing how electricity prices are determined

Decision to build nuclear plant would be reflected in tariff
South Africa's energy regulator is revamping how it determines electricity prices and sees an end to above-inflation increases granted to the cash-strapped state-owned utility even as the nation prepares to build nuclear plants.
Eskom Holdings SOC Ltd.'s revenue has increased every year since 2006 as the National Energy Regulator of South Africa, or Nersa, allowed the company to raise prices by an average 16 percent annually, or more than double the mean inflation rate of 6.1 percent over the 10-year period. Despite this, the utility's cash requirements have climbed as it needs 237 billion rand ($15.5 billion) in extra finance in the five years to 2019.
"They have benefited from above-inflation increases, and I think the pendulum must swing to the other side," Thembani Bukula, a director at Nersa, said Thursday in an interview in Maputo, Mozambique's capital. "The pendulum is on the side of the consumers."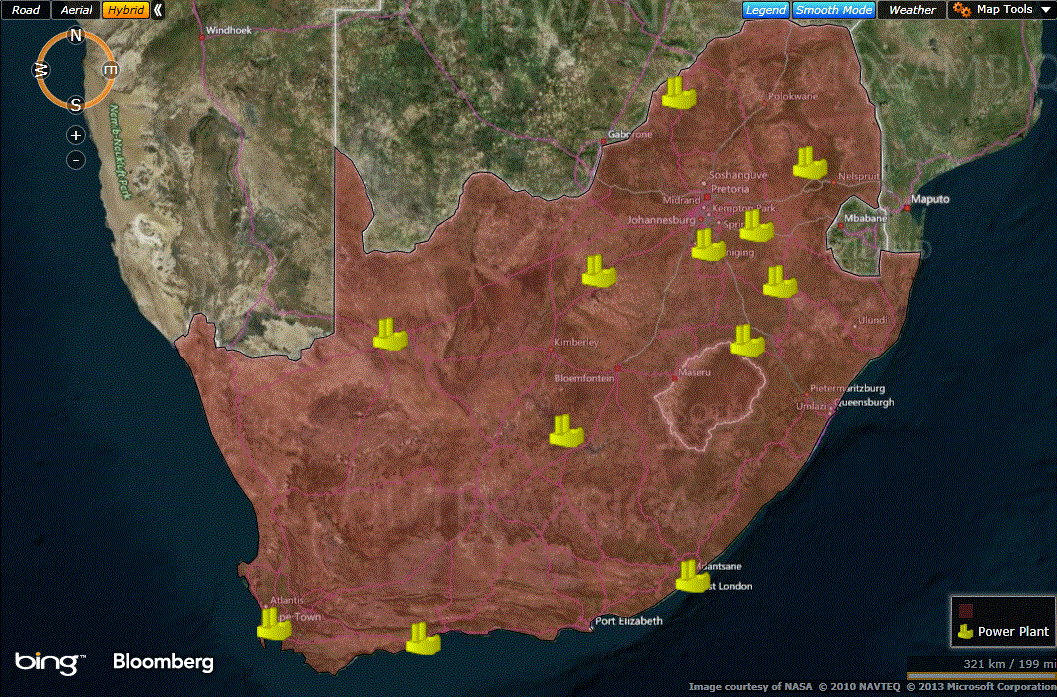 Delayed decisions to replace aging plants and holdups in delivering new ones resulted in power cuts last year, curbing growth in Africa's most-industrialized economy. Eskom Chief Executive Officer Brian Molefe said in November that the company is no longer seeking a cost-reflective tariff, but wants more certainty over prices it's allowed to charge, possibly over a 10-year period.
The regulator currently makes so-called multi-year price determinations, or MYPDs, which outline how much Eskom can charge users. The utility, which provides about 95 percent of the country's electricity, is allowed to ask Nersa for permission to recoup unanticipated costs incurred in prior years. The current pricing plan is for the five years through March 2018, and the producer has been allowed to claw back expenses for both 2013 and 2014 through higher-than-planned tariffs.
"We've not been able to have one full MYPD without major corrections -- 10 years would be very difficult," Bukula said. "We're considering something that gives a price path, an indication of where the price is going to go to."
Nuclear Power
South Africa is awaiting approval from the National Treasury to continue with a plan to add 9,600 megawatts of nuclear power, with 1 megawatt being enough to light up about 200 middle-income homes in the country at peak times. Eskom will act as the owner and operator of the project, with price-tag estimates for as many as eight reactors ranging from $37 billion to $100 billion. Depending on the financing model, which has yet to be determined, the energy regulator will immediately consider accounting for the costs.
"Our requirement is that we must ensure that when there is capital expansion we do not have shocks or humps, so we start including whatever is required earlier on so as to soothe the price path," Bukula said. "If the decision is made this year, by the next MYPD, you would have to have something for nuclear."
The regulator is also going to change the methodology used to incentivize Eskom to buy and use coal, which is used to fuel about 80 percent of company's generation fleet, more cost-efficiently, according to Bukula.
"Eskom is slowly building up its balance sheet," he said. "It's repairing its unhealthy financial state to a point where they will be able to ride through certain things."
Before it's here, it's on the Bloomberg Terminal.
LEARN MORE