Philippine Leader Seeks United Front to Defeat Duterte at Polls
by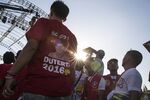 Philippines' outgoing President Benigno Aquino called for a united front to defeat the firebrand mayor of Davao City, Rodrigo Duterte, in elections in three days time.
Opinion polls show Duterte leading with about 30 percent support, which means a majority of the population doesn't back him, Aquino said in an interview on CNN Philippines on Friday.
"In our democratic system, it's the majority that decides," Aquino said. "Therefore, it behooves everybody to try and get together."
Duterte, 71, has won fans with his populist rhetoric to rid the country of criminals and deal with infrastructure bottlenecks. Investors have grown more nervous this week about the election outcome and whether the economic gains under Aquino can be sustained, with the peso and stock market sliding.
Aquino said he's spoken to Mar Roxas, a former Interior Secretary, over the past three days and contacted Senator Grace Poe.
"I am trying to get all these different voices from so many sectors together and in that sense, perhaps help our candidates get together and have that united front," Aquino said.
Roxas, who Aquino has endorsed, said in a televised speech on Friday that he and Poe should talk as the "spectre of dictatorship" looms. While open to talks, Poe reiterated Friday that she won't withdraw from the race, ABS-CBN News reported.
The final Pulse Asia Research Inc. pre-election poll showed Duterte with 33 percent support, ahead of Roxas with 22 percent and Poe with 21 percent. Social Weather Stations' poll released Friday showed a similar number for Duterte, 22 percent for Poe and 20 percent for Roxas.
Before it's here, it's on the Bloomberg Terminal.
LEARN MORE