business
No Sign of Brexit Revolution as U.K. Voters Opt for No Change
By and
Labour and SNP both lose a little ground to Conservatives

UKIP gains, but little evidence of `anti-establishment' vote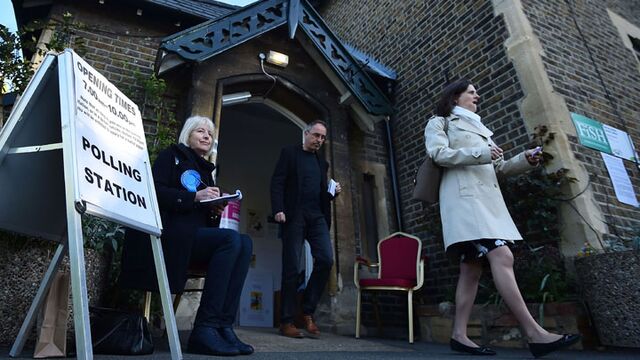 If Britain is a country on the brink of a revolutionary vote to defy its leaders and leave the European Union, there was little evidence of it in elections held Thursday.
QuickTake Will Britain Leave the EU?
Votes for local and regional government across the country, the largest single test of public opinion outside a general election, left little changed. Prime Minister David Cameron's Conservatives were set to shed fewer than 40 council seats, a decent result in elections that voters usually use to kick the government.
The Labour Party, which under new leader Jeremy Corbyn had hoped to cash in on anti-establishment, anti-austerity sentiment, was also on course to lose seats, something an opposition party hasn't done outside a general-election year since 1985. The only party pushing for a so-called Brexit, the U.K. Independence Party, made gains at Labour's expense but did no better than projected. The Scottish National Party retained control of the Parliament in Edinburgh while losing its majority.
"In all the nations, people voted to maintain the status quo," said Rob Ford, professor of politics at Manchester University. "If this was an expression of anti-establishment fury, it was an astonishingly quiet one."
In Retreat
Aside from UKIP, such parties were in retreat. Corbyn closed the election campaign by telling voters they had to choose a side. They responded by voting for other people. In the Welsh Assembly, Labour lost its majority and in England it ceded council seats, though not as many as the Conservatives did. In Scotland, where until recently the party was all-powerful, it fell into third place behind the Conservatives in the Edinburgh legislature. 
The SNP, which fell just short of an overall majority, won't seek any "formal arrangement" with another party, First Minister Nicola Sturgeon said in a televised address.

There was some comfort for Labour in London. Shortly after 5.30 p.m., with almost all the votes counted in the city's mayoral contest, Labour's Sadiq Khan was comfortably ahead of the Conservative, Zac Goldsmith.
The political conditions should have favored an opposition party: continuing fiscal austerity, a Conservative Party split from top to bottom over the question of EU membership, tax revelations that forced Cameron to publicly defend his own financial affairs, a resignation from the Cabinet and a series of reversals following March's Budget.
But the best Labour could say on Friday was that it had avoided a predicted disaster. The party took 1,217 seats after about 90 percent of local councils had announced results, a net loss of 25 seats. With more than 2,700 English seats up for election, Colin Rallings and Michael Thrasher, professors of politics at Plymouth University, had forecast Labour would lose 150.
'Hung On'
"All across England last night we were getting predictions that we were going to lose councils -- we didn't," Corbyn told supporters in Sheffield. "We hung on and we grew support in a lot of places."
The inconclusive set of results may not provide enough fuel for Labour lawmakers seeking to oust Corbyn, who remains popular with the party members who select the leader. Still, members of Parliament expressed their frustration.
"At this stage of the government, and with the Conservative Party in such disarray and disunity over big things like Europe, we should have tonight been making substantial gains," Jo Cox, who represents the northern English constituency of Batley & Spen in Parliament, told the BBC. "It's been a very weak night for Labour and this is not a route back to power in 2020," when the next general election is scheduled.
UKIP and the Liberal Democrats were the biggest gainers in England, adding more than 25 seats apiece. In Wales, UKIP won assembly seats for the first time. Although it took just one parliamentary seat in last year's general election, UKIP won 13 percent of the vote, and awareness of the party is now at a high with the Brexit referendum looming.

"We've got more elected voices to push for Brexit in the next few weeks," UKIP Leader Nigel Farage told BBC Radio 4. He said on Sky News television that "unless the Labour Party were to change course, UKIP will go on growing at the expense of Labour."
The probability of Britain voting to leave the EU is currently 22 percent, according to the Number Cruncher Politics Index, calculated from opinion polls and the usual patterns of voter behavior before referendums. Jon Davis, professor of politics at King's College London, said Thursday's elections had delivered "no new narrative."

"In a time lacking political definition, voters often heed former Prime Minister Stanley Baldwin's 'safety first' maxim," Davis said. "Cameron's team will not be quaking this morning about Brexit."
That means the focus is likely to remain on Labour and Corbyn. Victory in London may help, but it won't be enough for many in his party.
The BBC calculated that had the pattern of voting in the local elections been repeated nationally, Labour would have been on 31 percent, just ahead of the Conservatives on 30 percent. But replicated in a general election, the broadcaster said, that would still leave Labour 50 seats behind the Tories. Historically, oppositions that have gone on to form governments have had leads in double-digit percentage points in those projections. Here again there was no sign of UKIP advancing on last year's election result: it was on 12 percent.
Tom Watson, Labour's deputy leader, pleaded for party activists to show "patience" with Corbyn and give him time to sell his policies to the public.
"It would be very unfair and improper, actually, to hang this set of election results on Jeremy Corbyn's peg alone," Watson told the BBC. "After only eight months, people would say he needs more time to show the direction that Labour needs to take to win the 2020 general election."
— With assistance by Thomas Penny
(
Updates with academic comment in fourth paragraph; council results in ninth.
)
Before it's here, it's on the Bloomberg Terminal.
LEARN MORE